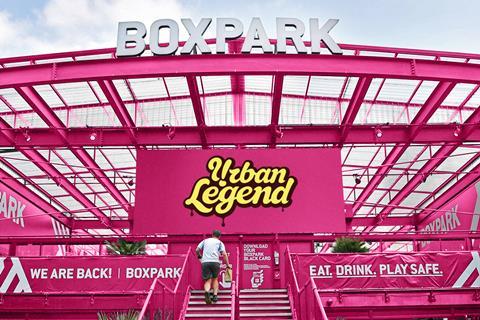 Urban Legend, the bakery brand that specialises in 'better for you' doughnuts, is gearing up to unveil two new stores in south London.
Outlets at Croydon Boxpark (17 November) and Clapham Junction (1 December) will open over the next two weeks, bringing the total number in the business's portfolio to three.
As many as 10,000 doughnuts will be given away on November 16, 18, 23 and 24 November to mark the occasion, according to the business, which also operates a store in Brighton.
The latest openings come just three months after Anthony Fletcher, former CEO of snacking firm Graze, unveiled Urban Legend, partnering with UK scientists, including Dr Chris Holland, senior lecturer in natural materials at Sheffield University, and bakers for the launch.
Containing fewer than 160 calories each, the treats are made from a process using novel starch and protein technologies which allow the doughs to be 'set' by a beam of steam rather than deep-fried.
Flavours in the line-up include Glazy Days, vanilla iced ring doughnuts topped with vanilla seeds, and Fools Gold, caramel treats dusted in caramel crunch with bronze nuggets.
The UK food and drink industry is under increased pressure to make products healthier with the government teeing up legislation for those high in fat, salt, and sugar (HFSS).
Earlier this month, Believe in Science, Urban Legend's parent company, appointed former Innocent managing director Jamie Mitchell as chairman.
Mitchell, who is one of the firm's angel investors, has held a number of high-level roles across FMCG, retail and hospitality and will support Fletcher grow the doughnut brand's presence "in the UK and beyond".
The duo worked together at juice and smoothie brand Innocent.