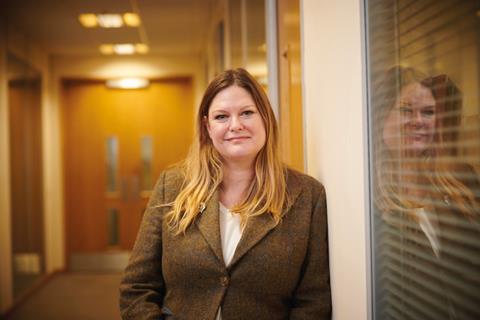 "We make food, we ship food, we sell food" – that's the Cooplands way according to CEO Belinda Youngs.
She joined the business in late 2019 having held high profile roles in grocery, including marketing director at Morrisons and senior trading manager at Sainsbury's.
"Bakery was like going home," she says, recounting school holidays in her teenage years that were spent working in bakery shops while her father's career included heading up the Three Cooks bakery chain.
"Cooplands is vertically integrated so we have complete control. We make everything – apart from the pop, the crisps, and the coffee – and we make it fresh every day and deliver it to our shops by 7am. That control and ability to be agile had great appeal."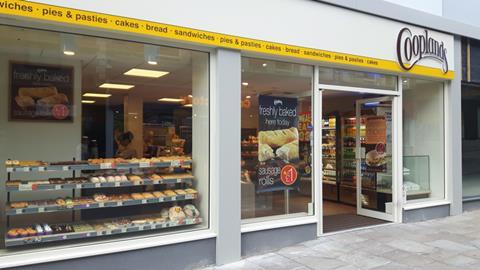 It's fair to say her first year at the helm of the 135-year-old family business wasn't what Youngs expected, but she's proud of the work that she and the Cooplands team have undertaken.
"It's been a real challenge," she says. "The pandemic year has delayed some of my plans as it was important to lead the business and stay open through three national lockdowns. But we've added new talent, developed our five-year strategy and opened nine new shops."
This new talent includes CFO Julie Turnbull, who joined in 2020 having previously worked as finance director for kitchen firm Omega and in Finsbury Food Group's bread and morning goods division.
By the end of March 2021, Cooplands plans to have opened a further seven shops including new format trials to be assessed over the first half of the financial year.
These include a site with a customerfacing preparation area for sandwiches and salads, a traditional shop with seating and Cooplands Eats & Seats due to be trialled in its heartland of Scarborough.
"It's a combination of a Cooplands shop, a Pret and a Costa but with our good honest value. There'll be soft seating, Wi-Fi, a grazing area and an extended product range," Youngs says.
We'll have opened 16 shops during the pandemic and plan to open 30 for every year for the next five years
These openings and trials form part of Cooplands' ambitious five-year plan which builds into its 10-year goal of venturing beyond its northern heartland into different areas of the country.
"Year one will be a year of strengthening the foundations of the business, normalising trade again and building capability," Youngs says. "We'll have opened 16 shops during the pandemic and plan to open 30 for every year for the next five years.
"By the end of year five we will be double our current size [in turnover and shop numbers] but largely within our existing geographical boundaries, but with improved levels of profitability."
This ambition will be supported by a recent £7.7m investment in Cooplands by growth capital investor BGF, which also invested £8.5m in the firm three years ago.
The investment, according to Youngs, gives the business a strong platform for growth and provides the funds needed to invest smartly. It also enabled recent shareholder structure changes which see the Coopland family remain minority shareholders with Paul Coopland continuing to support the business in a non-executive capacity.
Proud of people
People, be they employees or customers, are important to Cooplands – something Youngs is keen to emphasise. The business employs more than 1,600 people across 170 shops and three production sites in
Scarborough, Durham, and Hull. The Hull site, in Stoneferry, is also home to its training academy. It's designed to teach core bakery and production skills and "will launch back into life" in the next few months while Cooplands also plans to open three retail training centres for shop staff.
"It's a people powered business," Youngs explains, noting that bakery is an industry grounded in skill. "The essence of what we do, and what I never want to lose, is the heritage of the bakers' skill."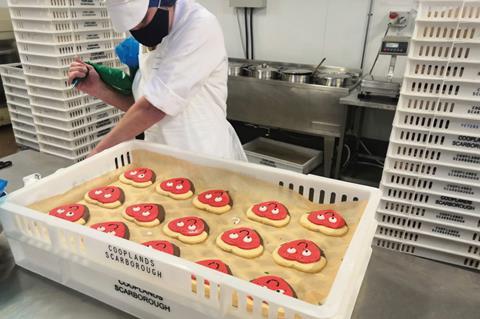 Hand finishing has an important role to play. For example, its hot cross buns are hand crossed and pork pies at Christmas are handmade. The celebration cakes, which offer customers a choice of designs, toppings and hand-piped messages, also require a lot of skill to produce. All of this must be balanced with upscaled processes to meet consumer demand.
Product development and innovation capabilities will also be expanded at the Scarborough site.
The essence of what we do, and what I never want to lose, is the heritage of the bakers' skill
All this fits into Cooplands' growth agenda focusing on "better products, better service, better standards, better decisions and investing in people" which will drive better performance.
"It's really easy to overcomplicate a business especially with a growth agenda," she says. "It mustn't destabilise the business or take our attention away from the core operations."
The same goes for its product lines. Cooplands has rolled out vegan NPD – its Vegan Devonshire Split, described as the first vegan-friendly cream cake on the UK high street, is one highlight among a range which includes a vegan sausage roll and pizza slice. Its bread range has also been relaunched recently and now boasts better quality, longer life, and a cheaper price. Seasonal ranges are also a big hit.
However, it's the classics that remain seated in the top five bestsellers – sausage rolls, cheese straws, breakfast sandwiches (bacon/sausage), ham sandwiches and Scotch bread rolls.
Their "iconic market leading value" is one reason they're Cooplands bestsellers, with deals such as six for £1 Scotch bread rolls or five for £1 cheese straws. The fan base for these "iconic permanent deals" is a fierce one, as Youngs found out in the early days of her time at Cooplands. "I was looking at social media just as I joined the business and one of the threads was 'she better not change the four for £1 sausage rolls'," Youngs laughs.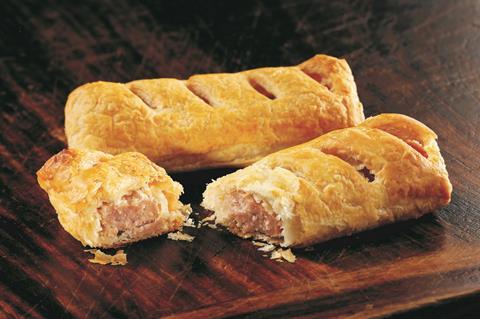 Digital development
While the price point hasn't changed, the way consumers can purchase their favourite baked goods has. Many of Cooplands' shops remained opened throughout the lockdowns. As the third national lockdown rolled round, the business kept all shops open (except the cafes) and all 36 routes of its food-to-go vans were operational, although some were adapted. What's more, the "surprisingly resilient" vans are gearing up to venture into residential areas as well as working environments.
"All of the crisis models show that if you can stay open, even if you shrink for a period of time, you come out of it faster and better," Youngs explains.
"We had to quickly put in a strong backbone of focus – the first has been ensuring the safety of our staff, the second has been sustaining the business and the third has been serving our communities, all in equal measures. Our decisions have been guided by those three things."
All of the crisis models show that if you can stay open, even if you shrink for a period of time, you come out of it faster and better
More than 23 new measures were put in place across the business to make sure it was as Covid-safe as it could be and ensuring every shop could be supplied every day.
This strategy, and Cooplands' wider performance, also impressed the judges at the 2020 Baking Industry Awards, who shortlisted Cooplands for The Craft Bakery Business Award.
Elsewhere, online ordering is growing steadily. Last March Cooplands didn't have online ordering capability but the pandemic "acted as a catalyst". Now, customers can order celebration cakes online as well as a variety of goods for click & collect, with further capabilities being added regularly.
"What is pleasing is it's incremental rather than cannibalising existing sales," says Youngs.