A trip to a French boulangerie more than 20 years ago would prove to be the inspiration behind Flourish Craft Bakery's Multigrain Bloomer, which triumphed in the wholegrain category at Britain's Best Loaf 2021. British Baker caught up with the co-owners to find out more.
Helen O'Connell was holidaying in France 20 years ago when she tried a farmhouse-style loaf that made her tastebuds come alive.
She knew on the spot that there'd be a market in the UK for something similar and so, armed with a sample, she returned home and enthusiastically shared the news with her brother and Flourish co-owner Paul O'Connell, and their business partner Edmund Soliva.
"Helen was really impressed with the flavour," Paul recalls. "It was very rustic, a French farmhouse type loaf. She just came to me and said why can't we just recreate this? Let's make our own version of this type of bread."
Paul set about experimenting and it wasn't long before he had created an English version of the French farmhouse sourdough, called the Ancient Loaf, which has now become the bakery's base signature loaf, and bestseller.
The multigrain variant – which has the same sourdough base – was born earlier this year after Paul realised the health and flavour credentials could be boosted further by adding pumpkin seeds, sunflower seeds, poppy seeds, and linseeds. He spoke to Flourish's head baker, the aptly named Ashley Baker, who set about creating the NPD. "After a few tries, we ended up with the winning formula," Paul explains.
'The clear winner'
The move paid off. Within seven months the versatile, nutty flavoured light bread had been crowned winner of the Wholegrain category in the prestigious Britain's Best Loaf 2021 competition.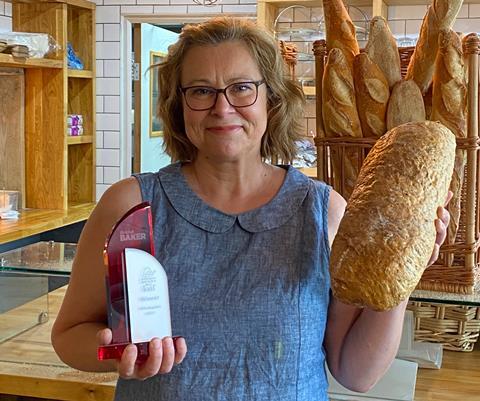 Judges praised the bloomer, which is made from a blend of wheat grains and rye, for its taste, choice of ingredients and texture. "It was full of seeds, with a good flavour and aroma," one of the judges remarked. "The clear winner of the category."
The accolade was warmly received by Flourish, which was established in 2000 and initially operated in "tiny premises" out of an old brewery in north London with only one client and no financial backing. "With not much money behind us we resorted to doing everything ourselves from the baking, cleaning, the sales and finally delivering out of the back of our cars," Paul remembers.
"The hours were incredibly long and we had to grab sleep at any opportunity. I can recall sleeping with a notepad by my bed so when the chefs phoned to place an order I didn't have to get out of bed. I also recall many nights sleeping on top of the flour sacks in the bakery."
Helen adds: "We literally were supplying one hotel and one deli and we've grown since then through word of mouth."
In 2015, the bakery, which supplies breads and pastries to shops, cafes, Michelin-star restaurants, authentic food markets and five-star hotels, moved from Tottenham to its premises in Watford.
Plans post-pandemic
During the pandemic, Flourish kept its "head above the water" by diversifying and creating a bespoke bakery with an in-house café. "We've incorporated a traditional sourdough pizzeria available for sit down and takeaway and we now have an online shop," Helen says.
She adds that the BBL accolade could not have come at a better time for the business, which employs 62 members of staff from drivers and packers to front of house bakers. "This award is just really motivational for everybody over this period," she says.
This award is just really motivational for everybody over this period
Like many bakeries, Flourish is now trying to stabilise and recruit staff as it navigates Covid-afflicted waters.
Meanwhile, the company's foray into celebration cakes is proving fruitful, with the café providing an avenue with which to test creations out on customers.
"One thing that we've really been successful with over the pandemic is our cake range, so we started doing celebration cakes and we've done one wedding cake already," Helen adds. "It has sort of taken off. We hope to elaborate on that and expand further."
Britain's Best Loaf 2021 revealed
1

2

3

4

5

6

Currently reading

Flourish Craft Bakery on its Britain's Best Loaf category win

7

8