You often hear the phrase 'don't give up your day job' but for Alexandra Vaughan of The Crow's Rest Bakehouse, it's worked out just fine.
When Vaughan started her bakery business in London nearly six years ago, it was as a "side hustle" while she made a living working in an office-based role. However, her dedication to the art of bread making was clear as she also spent time volunteering her services to local bakeries to gain experience and develop her skills.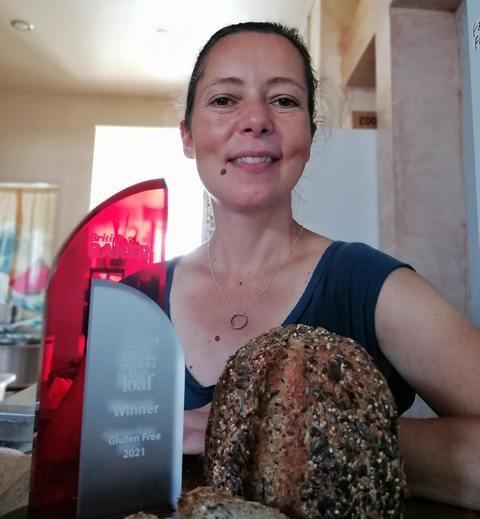 It paid off when, around three years ago, Vaughan moved to Wakefield, converted the ground floor of her house into the workspace for her micro bakery and made loaf production her full-time occupation.
While she admits The Crow's Rest Bakehouse operates "on a very small scale" – Vaughan works with one Rofco oven that can produce 15 loaves at a time – the owner can now boast the sizable achievement of producing the award-winning loaf in the gluten free category of Britain's Best Loaf 2021 competition.
"I was really happy when I found out I won, and I was very much in shock as well," Vaughan says. "Especially because of the way I work. I have a very educated, very loyal but also very small customer base, and a lot of the companies in the competition are really big. So, it was an amazing feeling. It was a massive surprise but a really good one."
Especially satisfying for Vaughan is that the trophy represents the realisation of an ambition she has held since she began experimenting with gluten-free flours about three years ago.
"Around the time I moved here, I was ill for a few months and one of the things being investigated was whether I had a gluten intolerance," Vaughan explains. "So, while I was waiting to find out, I started playing a lot more with gluten-free flours and really looking into baking with them."
As it turned out, the medical tests were negative – "I can eat all the gluten I want," Vaughan happily declares – while the baking trials were most definitely positive and motivated the baker "to create a gluten-free loaf anyone could enjoy".
"A lot of the time people try a loaf and say, 'Oh, this isn't bad for gluten-free,' but I didn't want that," she explains. "I wanted it to be a loaf that anyone would love, whether they're following a gluten-free diet or not. That's what I've been striving for, with all the studies and practising I did, and I think that's what I achieve with the loaf that won this award."
I wanted it to be a loaf that anyone would love, whether they're following a gluten-free diet or not. That's what I've been striving for
The views of the Britain's Best Loaf judges certainly back up Vaughan's belief, as they made a note of their "pleasant surprise" in finding that the bread stood up against many of the entries from the other categories that contained gluten.
One judge described the Seeded Sorghum & Millet Loaf – featuring linseed, pumpkin, chia and sunflower seeds as well as tapioca starch, arrowroot and psyllium husk – as "an all-round tasty loaf that really stands out, and something I'd pick up off the shelf".
"The fact that the competition is judged by people in the industry themselves makes it special," says Vaughan. "It's people who work with the kind of products they're testing, and they know what to look for. So, to have those people saying some pretty cool things about your bread is really good to hear."
So, what next for The Crow's Rest Bakehouse? Is expansion on the cards for the micro bakery? "To be honest, I'm quite happy with the format that I have," the owner insists. "I would like to grow the business just enough to keep the same setup I have."
So as far as Vaughan is concerned, small is beautiful.
Britain's Best Loaf 2021 revealed
1

2

3

4

5

Currently reading

Meet the micro bakery behind Britain's best gluten-free loaf

6

7

8