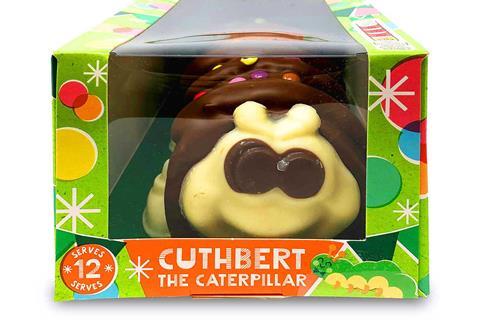 Cuthbert the Caterpillar looks set to make an even bigger name for himself as Aldi has filed a trademark application for the word 'Cuthbert'.
The discounter wants the trademark to apply to a long list of goods including soft toys, stationery, bedding, gift wrapping and Christmas tree decorations. The application also includes biscuits, cakes, and pies as well as chocolate sauces, sweets and other confectionery which all fall under class 30, suggesting Aldi may expand its sweet treat repertoire with more Cuthbert-related items.
It's the latest move in an ongoing battle of the caterpillars which saw Marks & Spencer take legal action against Aldi over the similarities between its Colin the Caterpillar cake and the Cuthbert product.
Both cakes consist of chocolate sponge rolls with a solid chocolate covering, white chocolate faces and sweet decoration.
Colin was introduced more than 30 years ago with a female version called Connie added later as well as seasonal editions for Christmas and Halloween. The character has also recently been expanded with cake jars and button biscuits. As the legal action was announced M&S said it wanted to protect "Colin, Connie and our reputation for freshness, quality, innovation and value".
Aldi's Cuthbert isn't the only other caterpillar cake on the market though, with most of the major retailers offering their own version. These include Cecil (Waitrose), Curly (Tesco), Clyde (Asda), Wiggles (Sainsbury's), Morris (Morrisons), and Curious (Co-op).
An out-of-court settlement was reached earlier this year. Although the details of it were not made public, M&S said it was "very pleased with the outcome" while Aldi added that "Cuthbert is free and looking forward to seeing all his fans again very soon".
Aldi sought to make the most of the added publicity for Cuthbert. One notable stunt saw the caterpillar cake dropped 40,000ft in a parachute to raise money for cancer charities.
Aldi was approached for comment but had nothing to add on the 'Cuthbert' trademark.