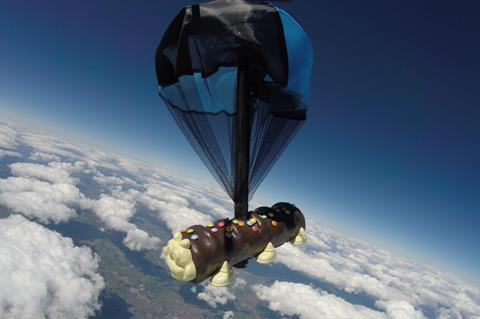 Aldi has marked the return of the controversial Cuthbert the Caterpillar by parachuting one of the cakes from 40,000ft in a charity skydive.
It comes after the chocolate roll cake was made the subject of legal action by M&S over its similarity to Colin the Caterpillar. However, limited edition Cuthbert cakes will return to the supermarket's shelves on 17 May, with all profits donated to charities including the Teenage Cancer Trust.
In a latest bid to hit the headlines, a Cuthbert cake was carried to an altitude of over 40,000ft in a specially built aircraft, lifted by a large hydrogen-filled balloon. It was then dropped back to earth, reaching speeds of over 50mph before landing 'gracefully' by parachute in the early hours of Wednesday morning.
The stunt was coordinated by high-altitude specialist Sent Into Space, which tracked the cake's journey through the atmosphere via two live telemetry systems.
"We ensured Cuthbert was safe to travel into the blue skies as he embarked upon his skydive challenge," said Dr Chris Rose from Sent Into Space. "As with all our flights, Cuthbert's aircraft ascended into the sky, where he would have reached temperatures as low as -70°C, before taking his plummet."
Aldi announced the return of Cuthbert in aid of charity last month and called on M&S to join it in raising money to fight cancer through sales of Colin the Caterpillar.
Responding to its rival's tweet asking for Colin and Cuthbert to be 'besties', M&S posted: "Hey @AldiUK we love a charity idea (Colin's been a BIG fundraiser for years). We just want you to use your own character. How about #kevinthecarrotcake? That idea's on us… and we promise we won't do Keith."
Richard Thornton, communications director at Aldi, acknowledged the huge level of interest the so-called 'battle of the caterpillars' has generated. "Cuthbert has been the centre of global media attention and we felt a dramatic return was called for to celebrate him coming back to our stores – and it doesn't get more dramatic than jumping from the sky at 50mph," he said.
"Our loyal shoppers have really backed Cuthbert during these last few weeks and we can't wait to bring a limited edition version of him back to reunite him with his fans and thank everyone for their support, whilst also raising money for charity, including our partner Teenage Cancer Trust."