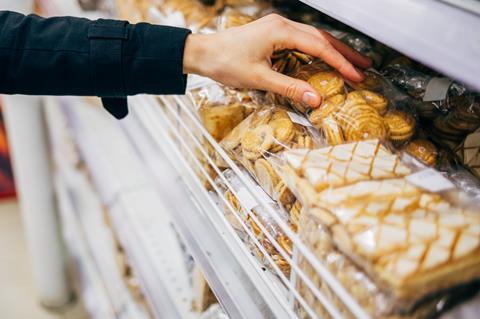 UK supermarkets feel unprepared for planned restrictions on the promotion of high fat, salt and sugar (HFSS) foods, new research suggests.
A survey by Censuswide, commissioned by AI nutrition technology company Spoon Guru, polled decision makers involved in retailers' compliance and regulation processes to gauge views on the legislation due to come into force in October 2022. A quarter of respondents – who, according to Spoon Guru, represent the UK's top 11 supermarkets – said they felt uninformed about what the restrictions will entail.
Under the legislation, store promotions of HFSS products – including cakes, sweet biscuits, morning goods and pizza – will be restricted by location (store entrances, aisle ends, checkouts and online equivalents) and volume price (such as 'buy one get one free and 'three for two' offers).
However, due to a lack of detail available on the new rules over a third (35%) of respondents to the survey said they were concerned that they would fall foul of the legislation, and less than a fifth (18%) admitted they didn't know where to begin with their preparations.
The restrictions on HFSS store promotions were originally due to come into effect in April 2022 but a six-month delay was announced in June this year to allow businesses to adapt. However, nearly two thirds (61%) of respondents to the survey agreed that the enforcement of the rules should be pushed back by another seven months or more.
"We understand why the government has delayed the enforcement of this legislation," said Johanna Bolinder, head of health and sustainability at Spoon Guru. "The HFSS changes undoubtedly carry several bureaucratic hallmarks in that this is very complex legislation which many people are struggling to understand and implement."
While 60% of respondents to the survey acknowledged that they had a key role to play in the HFSS legislation, 42% said they believed that brands should also be involved in the process.
"The new HFSS regulations are designed to help shoppers make informed, healthy choices, but it's essential we work collaboratively as an industry, and across sectors, to help them achieve maximum impact, and utilise available technology and communications methods to avoid creating further confusion for all involved," said Sharon Bligh, healthier lives director at The Consumer Goods Forum.
As well restrictions on store promotions, the government has confirmed that a 9pm watershed on the advertising of HFSS foods will be introduced for UK TV and on-demand programmes at the end of 2022, with the ban also covering online paid-for marketing.