Three, two, one… lift off. Sales of wrapped bread and baked goods have taken off like a rocket.
Over the past year alone UK shoppers have splashed out an extra £387.7m on the category in supermarkets – a 10.9% increase on the previous year according to Kantar for the 52 weeks ending 16 May 2021 – as in-home lunches became the norm and consumers looked to recreate restaurant style dishes from their own kitchens.
"The category was in growth pre-pandemic," explains Tesni Steele Jones, consumer insight director at Kantar, "but the growth rates have doubled."
This means wrapped bakery is now sitting at a cool £3.9bn in value, having grown by nearly a third since 2017 when it was worth just over £3bn.
So, what are the drivers behind this astronomical growth? What will it look like as the world establishes a 'new normal'? And, how can brands and retailers keep this momentum going to avoid a crash landing?
"Following a year when bread has taken centre-stage during lunchtimes, the category is thriving," says Matthew Callum, director of marketing at Allied Bakeries.
"With more people working from home in the last 12 months, shoppers have turned to sliced bread as they seek out easy-to-prepare tasty lunches in their own kitchens. Wrapped loaves provide convenience, taste, nutrition, and variety – something that ticks a lot of boxes for consumers."
Following a year when bread has taken centre-stage during lunchtimes, the category is thriving
Lunch is a key daypart for bread, accounting for 57% of consumption occasions, with breakfast making up a further 27% and dinner 8%, according to Délifrance's latest report Prove It: A Bread Focus. However, bread's gain throughout the pandemic has been partially at the expense of foodservice and food-to-go, a segment heavily reliant on the commuter crowd. But the balance is expected to be somewhat restored even with a new hybrid style of working adopted by many firms.
"Bakery and particularly wrapped bread will continue to do well at lunchtime," believes Callum. "Of course, sales will decline slightly from mid-pandemic levels." This, he says, can already be seen in the latest four-week data, with volumes dipping as some of the nation returns to schools and offices.
A hole in the market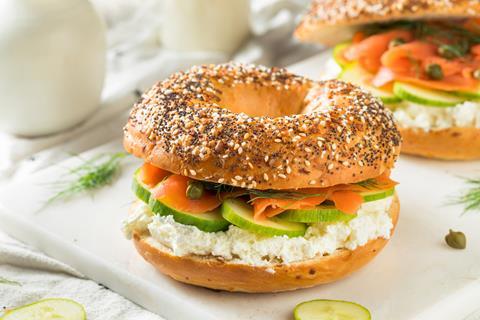 But it seems consumers are seeking more adventurous options than a simple ham sandwich. "Alongside traditional favourites like sliced bread, bagels have continued to perform well, and we expect this to continue," notes Paul Baker, founder of St Pierre Groupe, which owns the Baker Street, St Pierre and Paul Hollywood brands. "Increasingly, they have become a recognised part of the UK bakery repertoire… In 2017, the UK was eating more than 300 million bagels a year, and the number of bagel sandwiches being eaten in or out of home grew by 73% between 2015 and 2019," he adds.
Supermarket sales of bagels have nearly doubled since 2017 rising from £88.7m in 2017 to £164m in 2021 – a growth rate of 85%. This success continued amidst the pandemic as UK shoppers dropped an extra £19.5m on bagels [Kantar]. More players have ventured into the arena as well, Warburtons for example, while others have rolled out NPD, such as New York Bakery Co's Deli Bagels.
Warburtons presumably believes this trend will continue, having announced an £18m investment in a thin bagels line following the launch of the products in 2015, and splashing a further £8m on a crumpet plant. "The wrapped bakery market remains very competitive, with underlying long-term declines in bread being offset by growth in other wrapped bakery such as crumpets, thins and rolls," said a spokesperson for the plant baker. "Looking forward, we continue to focus on new product innovations to meet evolving consumer trends."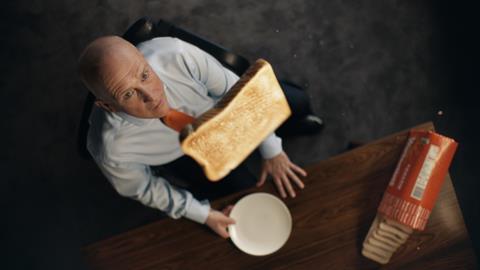 Bread and buried?
So, does Warburtons' strategy signal a nail in the coffin for white sliced loaves? Probably not. As Kantar's Steele Jones points out, white bread is the biggest sub-section of the wrapped bread market, accounting for nearly 50% of its value.
"Sliced white is indisputably the most popular everyday basic bread because it's versatile, reliable and affordable," according to food trends experts Harris & Hayes. And while it isn't keeping pace with wrapped bread's growth – total category value has increased by 9.6% since 2017 – white bread sales have remained relatively stable with just a 0.1% value decline over the same period. However, it is predominantly seeded loaves driving long-term growth, which Allied's Callum attributes to shoppers seeking "healthier yet tasty options" – a trend he expects to continue.
Sliced white is indisputably the most popular everyday basic bread because it's versatile, reliable and affordable
Another opportunity for growth comes from specialist loaves such as sourdough, focaccia, and those with added ingredients – essentially, more indulgent loaves designed for the weekend.
"As some 41% of consumers eat bread every day or almost every day, there are plenty of opportunities to reach staple bread fans and new consumption occasions, particularly when we take into account that we expect to see increased indulgence and health-based snacking in the category," says Stéphanie Brillouet, marketing director for Délifrance.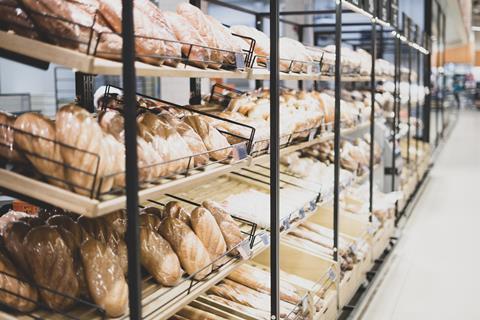 It's a trend already present in the category. Tesco, for example, is seeing growth in premium breads such as sourdough, with more options expected to join the range later this year. It has also created a limited-edition range, with a Wild Garlic & Sea Salt Ciabatta a particular favourite among customers.
This could be good news for in-store bakeries (ISB) which suffered during the pandemic due to pauses on operations, reduced product ranges and consumer concerns over hygiene.
Speciality bread is a key area for Marks & Spencer's ISBs as it seeks to offer a range which can rival artisan bakeries. Recent NPD in the form of its Handcrafted Sourdough, for example, was developed by the retailer's master baker and supplier, and is produced by a 'bespoke 30-hour process', according to the retailer.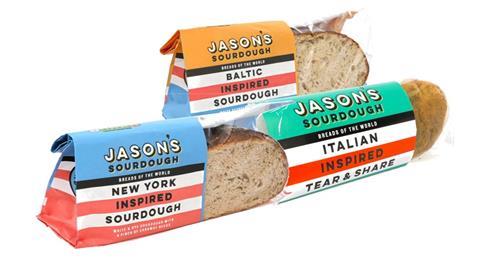 "Fresh bread not only adds choice to an in-store bakery, but by using strong artisanal bakery cues when displaying bread and focusing on freshness, customers will soon be lured back," adds Brillouet of Délifrance.
Geary's Bakery is hoping this appetite will translate into the wrapped bread aisles as well, having just rolled out a Breads of the World range under its Jason's Sourdough brand, which includes a Twisted Olive & Basil loaf. It's an area Bertinet Bakery is also trying to corner with its rustic sliced sourdough bloomers and artisan whole loaves, with the latter featuring seeded olive and focaccia varieties.
NPD certainly has a part to play in bread's success, adding £45m this past year, but Kantar's Steele Jones notes much of the growth in came from consumers shopping more and buying more per trip.
Keeping it fresh
It's worth noting that supermarket sales are only half the story. The Délifrance report places the total UK bread market's worth at £7.5bn, with continued growth expected. Notably, it highlighted an increase in wrapped bread volumes in 2020 while fresh loaves and frozen bake-off ones reduced. However, Délifrance expects the dynamic between packaged and fresh loaves, as well as the balance between retail and foodservice bread sales, to return to pre-Covid levels in the next few years.
Many of the trends and consumer needs can be applied regardless of the setting and there's plenty of opportunity out there, as Harris & Hayes succinctly puts it in the report: "There is still appetite for innovation across retail and foodservice, including: making the basics better – improving shelf life, taste, nutritional content; improving distribution – subscriptions, D2C; increasing reasons to purchase – health, snacking, allergens; and the future of sustainability – including packaging and food waste."