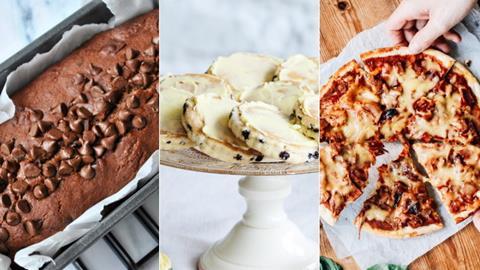 Braces, Good Grain Bakery and The Bake Shed are among the businesses to contribute to a new recipe book being sold to raise funds for NHS Charities Together.
The Little Rainbow Book of Recipes features 71 recipes, including vegan, gluten-free and vegetarian options, from UK food and drink brand founders and experts to celebrate 71 years of the NHS.
Bakery recipes include a selection of sandwiches by Braces Bakery, a meatless feast pizza by frozen vegan pizza company One Planet Pizza, Welsh cakes by Castle Dairies and gluten-free blueberry muffins by Good Grain Bakery.
Organic chocolate company Seed & Bean, meanwhile, provided a recipe for a chocolate espresso banana bread, traybake specialist The Bake Shed offered up a lemon drizzle traybake recipe and pancake company Griddle explained how to make a melt-in-the-middle chocolate sharing pancake.
The recipe book has been compiled by creative business specialist Visionary Food Solutions, based in South Wales, and is available via the company's website, priced at £10. All profits will go to NHS Charities Together, which represents and supports the work of more than 140 member charities.
"The Little Rainbow Book of Recipes has been an amazing project to be part of," said Gareth Hobbs, managing director of Visionary Group.
"The fact people have given up their time, when businesses are under so much pressure, to support this initiative made us know we were on to something special. The book has just gone live on pre-order, and it is amazing to see sales coming in already. And, with support from the industry, I'd like to think there will be a sizable donation to NHS Charities Together at the end of this."
Businesses, including bakeries and their suppliers, across the UK have increased their support for the NHS during the Covid-19 pandemic from donations of treats to hospitals, reopening stores to serve frontline staff and donating money from the sale of goods to NHS charities.