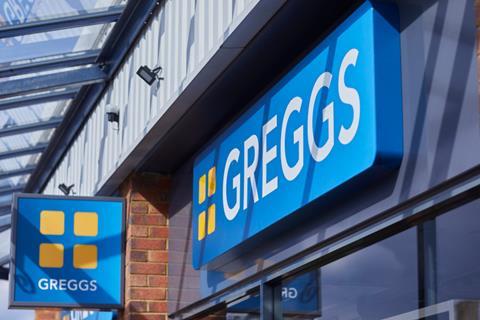 Significant progress has been made on the 10 commitments contained in the Greggs Pledge launched more than a year ago, according to the bakery giant.
The Greggs Pledge aims to 'make the world a better place' by focusing on three key areas: building stronger, healthier communities; making our planet safer; and being a better business.
Roger Whiteside, the outgoing Greggs chief executive who will be replaced by Roisin Currie in May, expressed pride in the achievements the company has made with its community and sustainability strategy following the release of a report outlining progress on the 10 commitments along with future actions.
"As a business we have a strong sense of responsibility to do the right thing for our people, customers, suppliers and communities and to lead positive change," he said. "The Greggs Pledge sets out our ambition to deliver this and our work towards achieving this commitment in the past year has helped us to grow into a stronger and better business.
"Although there is still work to be done, with our clear plan for the next year I believe we are well-placed to meet our ambitious targets for 2025 and beyond, as our business continues to grow and evolve and we work together to make the world a better place," Whiteside added.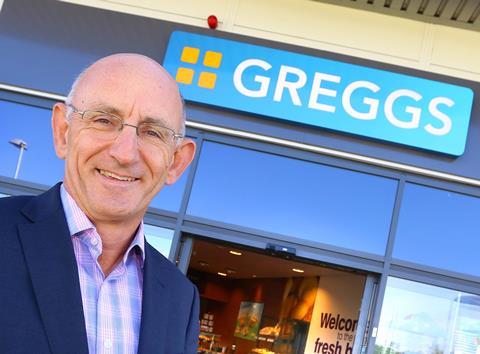 According to the Greggs report, the progress the bakery chain has made towards its 10 commitments and its plans for 2022 are as follows:
1. Open 1,000 school breakfast clubs, providing 70,000 meals each school day
Progress in 2021: Greggs Foundation supported 686 breakfast clubs, feeding more than 44,500 children every school day.
2022 target: Greggs Foundation will support 760 breakfast clubs.
2. Create 25% less food waste than in 2018 and continue to work towards 100% of surplus food going to those most in need
Progress in 2021: Greggs redistributed 28% of all unsold food in shops and reduced the ratio of manufacturing waste to sales by 31%. The company also donated over 1,000 tonnes of food working with over 1,200 charity partners.
2022 target: Greggs aims to reduce the amount of food waste created in manufacturing operations by an additional 10% and increased food redistribution by a further 10%.
3. Have 50 outlet shops providing affordable food in areas of social deprivation
Progress in 2021: Greggs increased its outlet shops from 13 to 20 and has reset its 'ambitious' target (see below) that it was not able to reach in 2021.
2022 target: Greggs aims to have 30 outlet shops open.
4. 30% of the items on Greggs' shelves will be heathier choices
Progress in 2021: Greggs hit its target and said 32% of the items on its shelves are healthier choices.
2022 target: Greggs aims to have at least 30% of all new products created as healthier choices.
5. Progress towards Net Zero target by using 100% renewable energy across all operations
Progress in 2021: Greggs assessed the carbon footprint of its whole value chain.
2022 target: Greggs said it will complete a supplier engagement plan and publish science-based targets.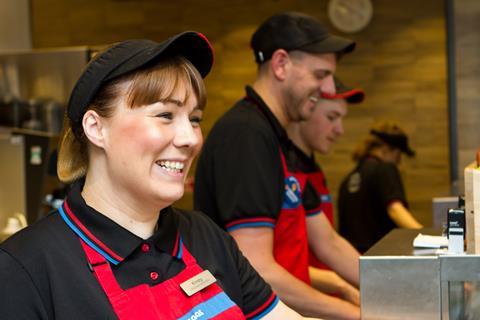 6. 25% of shops will feature elements from Greggs' Eco-Shop 'shop of the future' design
Progress in 2021: Greggs created the Eco-Shop template, which will be a testbed for eco-initiatives.
2022 target: Greggs aims to have opened its first Eco-Shop, with a further 250 shops having Eco-Shop elements.
7. Use 25% less packaging, by weight, than in 2019 and any remaining packaging will be made from material that is widely recycled
Progress in 2021: Greggs joined the On Pack Recycling Label (OPRL) scheme with the aim of making recycling communications for customers easier to understand.
2022 target: Greggs aims to have added an On Pack Recycling Label to all its own brand packaging and have built its roadmap to move all brand packaging to meet OPRL's 'recyclable' criteria.
8. Greggs' workforce will reflect the communities it serves
Progress in 2021: 500 managers at Greggs attended an Inclusive Leadership Workshop.
2022 target: Greggs aims to have achieved the National Equality Standard assessment.
9. Launch a responsible sourcing strategy and report annually on progress towards its targets
Progress in 2021: Greggs completed a review of soy across all its ingredients, joined the UK Roundtable on Sustainable Soya and signed up to the UK Soy Manifesto.
2022 target: Greggs will publish a Deforestation Policy, including plans to be deforestation free by 2025.
10. Secure and maintain Tier 1 in the BBFAW Animal Welfare standard
Progress in 2021: Greggs created a roadmap to achieve a Tier 1 rating in the Business Benchmark on Farm Animal Welfare.
2022 target: Greggs aims to ensure chicken stocking densities are a maximum of 38kg/m2.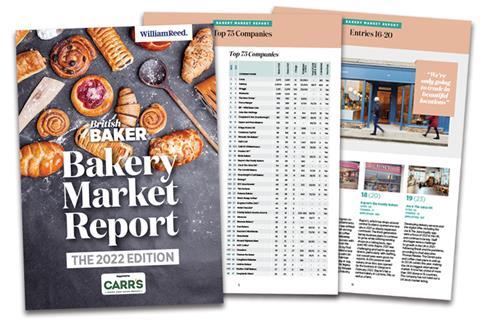 DOWNLOAD THE BAKERY MARKET REPORT 2022
Find out more about Greggs and its competitors in our unique snapshot of Britain's out of home bakery market. The core of the report is the 'BB75' listing, which contains details of the country's 75 largest bakery-focused operators ranked by the number of stores they operate.
Information in the report includes:
Number of sites operated (as of 1 January 2022)
Year-on-year growth/decline in sites
Number of employees
Food and drink split
Analysis of key activity in 2021
Plans for 2022