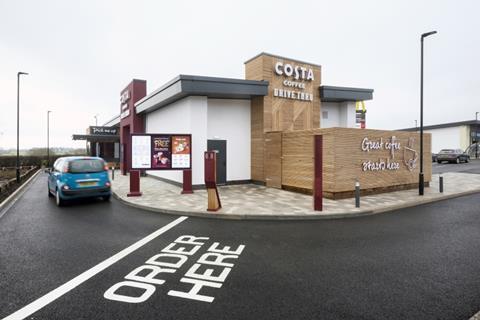 Costa Coffee is investing £20m in its drive-thru format this year as it looks to expand its estate by 100 new sites – 60 of which will be drive-thrus.
The news came as the business celebrates opening its 300th drive-thru in Britain located at the Peel Centre Retail Park in Washington, Sunderland.
It forms part of Costa's expansion plans which includes a target of 500 drive-thrus by 2025 in a move that will expand its reach across the country and create around 15 new jobs at each site. The coffee giant is also rolling out 1,000 Costa Express machines in 2022, including a recently upgraded self-service machine which can offer both hot and iced drinks.
Costa opened its first drive-thru in Britain 11 years ago in Nottingham Castle Marina. Drive-thru stores deliver what Costa describes as an 'innovative approach' for coffee consumers with options for on-the-go consumption and sit-in.
Drive-thrus are proving to be a popular format for coffee shop and bakery operators. In its recent interim results, Greggs said it had a 'growing pipeline' of drive-thru sites with three new ones opened already this year. Smaller businesses, such as Scotland's Stephens Bakery, Bayne's the Family Bakery and Tim Hortons, are also getting in on the action.
"We know that drive-thrus continue to prove popular with consumers as the nation gets moving again," said Adrian Cook, UK&I chief operating officer for Costa Coffee.
"With over 10 years and 300 stores of experience under our belts, we look forward to continuing to delight coffee fans when they're out and about across the UK."
The business is also installing electric vehicle charging ports at several its stores as it looks to support the transition to a lower carbon economy.