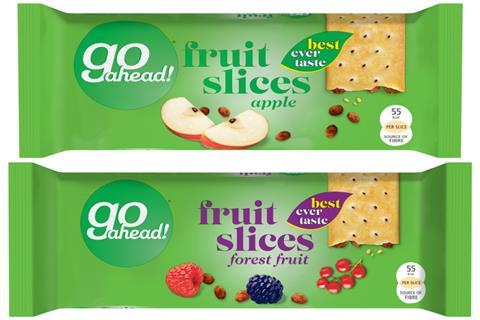 Pladis-owned Go Ahead has unveiled a new recipe and name for its fruit slices.
Previously known as Crispy Slice, the £14m [Nielsen] sub-brand has been renamed Go Ahead Fruit Slices and will be available in Apple & Sultana, Raspberry and Forest Fruit flavours.
"We want to ensure that Go Ahead continues to meet the needs of today's shoppers, so we're giving the range a renovation – it's first since 2003," said Christopher Owen, marketing controller at Pladis UK & I.
"We've come up with our best-ever recipe – and have marked this improvement with a new name which better represents the product," said Christopher Owen, marketing controller at Pladis UK & I.
The company said it hoped the revamp would help solidify its position in the healthier snacking aisle. Consumers responded particularly well to snacks with fruit in the product name, according to market research firm Verve.
"Our goal here is not to drive higher frequency and repeat purchases for Go Ahead Fruit Slices among our established shopper base, but to encourage incremental sales among younger consumers looking for new, delicious snacks to enjoy.
"With lockdown restrictions beginning to ease, we expect to see a growing number of 'grab and go' consumption occasions, and, in turn, a growing opportunity for individually wrapped, healthier biscuits," added Owen.
Available in multipacks of five or six, packaging will be recyclable through Pladis' partnership with waste management firm Terracycle.
Go Ahead Fruit Slices (rsp:£1) will be available across grocery, convenience and wholesale, including Tesco and Sainsbury's, from early July.