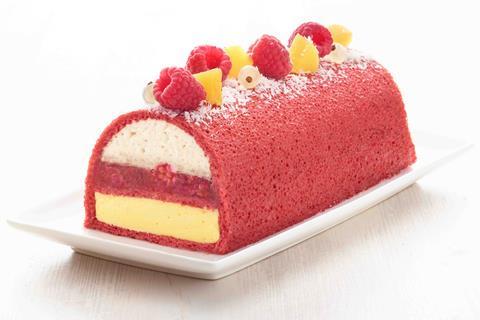 Foodservice pastry and dessert specialist Pidy has unveiled two new products aiming to offer operators flexibility for their menus.
Pidy's frozen and ambient Sponge Sheets are available in raspberry, pistachio, chocolate and neutral flavours and designed to be used for a number of applications including stacking for layer cakes or rolling for roulades.
According to the manufacturer, the sheets have a light texture and can be crafted into different shapes, as well as hold fillings.
The frozen sheets have a shelf life of 12 months and are usable for 48 hours once thawed. The ambient sheets have a four-month shelf life and can be frozen.
Measuring 580mm long, 380mm wide and 5mm thick, the sheets come in packs of 10 and can be cut to any shape and size that is required.
"We're delighted that our sponge sheets have continued to develop and grow in the UK foodservice, industrial and instore bakery sectors," said Fabien Levet, commercial manager at Pidy UK. "We are always developing our products to make chef's lives easier and our sponge sheets, offer a variety of incredible flavours to allow foodservice professionals to push their culinary boundaries."

Pidy Veggie Cups
The manufacturer has also launched Veggie Cups – bite-sized carriers for creating canapes and appetisers with hot or cold fillings. The cups come in beetroot, carrot, spinach and grilled onion flavour, each coloured accordingly.
Made with a recipe using spices and dried vegetables, the cups offer a crispy texture, are vegan-friendly and can be stored in a dry, ambient environment for up to 10 months, Pidy said.
"Canapes and appetisers are often underestimated but they're such an important element of a dining experience as they set the tone for a meal," said Levet. "With their creative colours, people will be excited about their upcoming meal as one small mouthful says a lot about culinary ability."