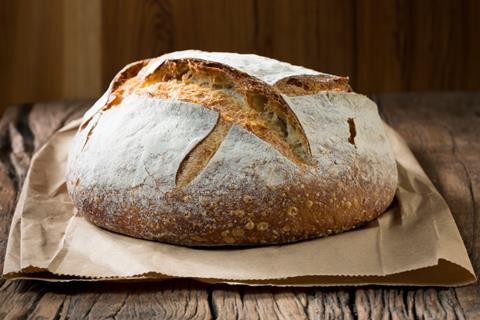 Small independent bakeries are being encouraged to trial customer purchase schemes to help bridge the gap between the rising costs of making genuine sourdough and what some locals can afford.
The Real Bread Campaign has touted the idea as part of Sourdough September, which is now underway in its 10th year and encourages people to buy sourdough – made using the long-fermentation process – from neighbourhood bakeries.
Among its suggestions are a pay-it-forward system that invites customers who can afford it to contribute an extra 50p-£1 to their purchase or even pay the whole price of an extra loaf. The bakery could then issue a corresponding number of discount vouchers applicable to genuine sourdough loaves or other 'real bread' during the month, the Campaign said.
Alternatively, the scheme might fund the bakery to discount a given number of a particular loaf, the Campaign added. It also proposed that some flour mills might be willing to contribute to affordability schemes run by bakeries they supply.
"While it's good to see bakeries discounting or giving away leftover loaves at the end of the day to stop them going to waste, the idea of real bread for all is helping people on tight budgets to walk into a bakery at any time of day and buy a loaf like any other customer," Real Bread Campaign coordinator Chris Young said.
Sourdough September activities
Sourdough September, organised by The Real Bread Campaign, encourages businesses and consumers to post sourdough baking photos and selfies on social media. Each year, around 5,000 #SourdoughSeptember posts appear from more than 60 countries on Instagram alone, the Campaign said.
Sourdough pizza specialist Franco Manca, which champions slow-rising sourdough, is among the well-known brands supporting the activity.
It is encouraging people to create and share their own perfect pizza, as 'weird and wonderful' as they may be, explain why they have chosen the ingredients and why they should win.
Six finalists will be invited to produce their creation at a chef panel event on Tuesday 4 October 2022 in the concept's Baker Street pizzeria. The winner will have their pizza on the specials board across all of Franco Manca's pizzerias for two weeks and receive a Gozney Roccbox pizza oven worth £400.
Traditional sourdough bread is leavened using only a live sourdough starter culture. While there are products named or marketed using the word sourdough but manufactured by different processes using baker's yeast, chemical raising agents, additives or a combination of these, The Real Bread Campaign doesn't recognise these as genuine sourdough, calling them 'sourfaux'.
This summer, more than 150 UK bakery professionals signed a letter to the government calling for the inclusion of The Real Bread Campaign's Honest Crust Act proposals within its review of the Bread and Flour Regulations 1998.
The letter warned the current regulations fell short in protecting the ability of small, independent bakeries to compete on fair terms with large manufacturers and retailers regarding bread composition, labelling and marketing.
The use of the word 'sourdough' by manufacturers to market loaves that haven't been made by the long-fermentation sourdough process was among the issues it highlighted.
The Real Bread Campaign has subsequently expressed its anger at the omission of its proposals from a recently launched consultation on the Bread and Flour Regulations by the Department for Environment, Food and Rural Affairs (Defra).