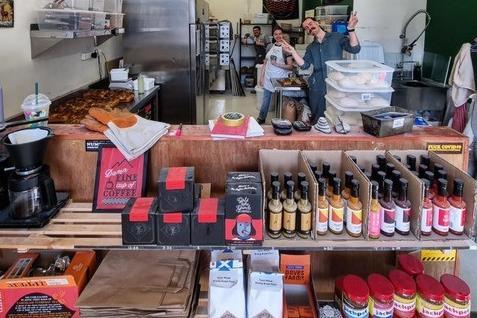 With many bakeries looking to increase profitability in the face of rising costs, Aberdeen's Bandit Bakery has branched out into selling non-baked artisan items.
Alongside its plant-based bakes, sourdough, focaccia, baguettes, cinnamon buns and cookies, the business has begun selling products such as chocolate, coffee, hot sauces, seasoning mixes and flour.
Pete Leonard, director of Bandit Bakery, recommended the strategy as a way for bakeries to increase revenue in the current climate of escalating costs.
"Introducing a range of other goods is a great way for bakeries to boost add-on sales and increase overall spend, while also giving customers a better shopping experience," Leonard said.
"We have been stocking a selection of products that we personally love and want to share, and so far, sales of these have been amazing."
The idea was sparked after the business began stocking the director's favourite chocolate, Fatso, a single origin Colombian product available in three flavours, which he said had "flown off the shelf".
"We're always on the lookout for new things to try and if we like it ourselves, then we will look to see if it's possible to purchase it wholesale," Leonard added.
"We serve quite a range of customers and seek to be honest and simple with what we do, and I feel that appeals to a wide demographic. Although the kind of baking we do could easily be sold as artisan, we try to avoid presenting as such to reach as many hungry cake and bread lovers as possible."
Last month, trade body Scottish Bakers warned of an "existential threat" to the survival of bakery businesses in Scotland due to soaring costs and widespread recruitment challenges. Chief executive Alasdair Smith wrote to Holyrood and Westminster politicians to raise awareness and called for urgent action to support and provide relief to the sector.