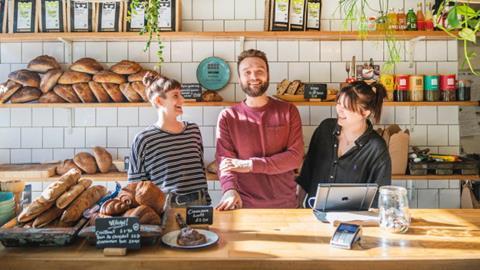 Redfield-based The Bristol Loaf is to open an ethical supermarket and bakery in Bedminster.
The artisan sourdough bakery has teamed up with local businesses Hugo's Greengrocer and Zero Green to open "Bristol's first and greenest bakery, café and grocer" on Bedminster Parade.
Founder Gary Derham has partnered with Lidia Rueda Losada and Stacey Fordham of zero waste shop Zero Green, as well as Hugo Sapsed of deli Hugo's Greengrocers.
The aim is to promote a more sustainable way to live and shop all under one roof, said the company. The one-stop ethical shop will allow the business to become more environmentally sound in process and practice.
Its new premises will provide more space for bakers and chefs to broaden its bread, cake and pastry range, as well as its lunch offering.
The new site is set to champion locally made products and produce, natural wines and plastic-free goods to facilitate its goal to become waste-free and reduce its carbon footprint.
It has secured funding from the EU Sustainability for Growth Project (S4G), which is working to promote and support local job creation.
Consumers are also encouraged to donate through fundraising platform Crowdfunder to support the build of the site.
The project cannot be completed without help from consumers, Derham said. Pledges will help to pay for local tradespeople to complete the building works sustainably and to enable installation of more energy-efficient equipment and solar panels.
Originally set to open in April, the site has been postponed to May or June this year.
The Bristol Loaf opened in 2017 and serves breads, savouries, pastries and cakes, with vegetarian, vegan, gluten- and refined sugar-free items.