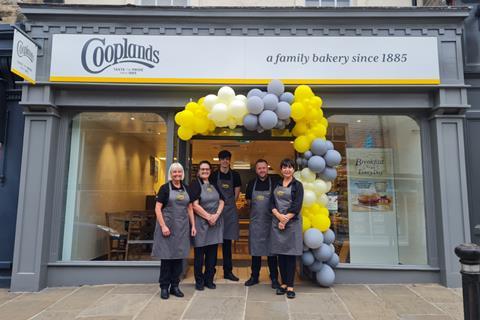 EG Group has announced plans to open 30 Cooplands outlets a year through to 2026.
The Cooplands parent company, which acquired the Scarborough-headquartered bakery chain in October 2021, said the growth strategy would include cafés within new-to-industry sites and convenience stores on EG forecourt sites.
In addition to the openings, EG – which also owns the Leon fast food brand – plans to create 22,700 jobs in the UK over the next five years, many of which will be at Cooplands. To supplement its growth strategy, and in recognition of cost of living pressures, the group has increased the average hourly pay of UK staff aged 18 and above to £10.05.
"As EG continues to go from strength to strength, we will be creating a large number of new jobs over the coming years, particularly in our successful foodservice business ‒ which remains a significant growth opportunity globally," said Mohsin and Zuber Issa, co-founders and co-CEOs of EG. "We are proud to be a business founded in Britain that invests in job creation worldwide, while focusing heavily on the training and development of colleagues.
"EG has a strong track record of providing colleagues with long-term opportunities to progress their career at all levels ‒ and we are passionate about continuing this."
Blackburn-headquartered EG Group has grown over the last two decades as a forecourt operator but has increasingly diversified into the foodservice sector over recent years. Its third-party partners include Starbucks and KFC and the group is active in Ireland, France, Germany, Belgium, Netherlands, Luxembourg, Australia and the US, as well as the UK.
The plans for growth follow the publication of EG's unaudited FY21 results in March, in which the group reported a 16.3% increase in adjusted EBITDA to approximately £1,160m, primarily driven by a stand-out performance in foodservice and the further easing of Covid-19 restrictions in many territories.
Earlier this month, Cooplands was revealed to be one of the nation's top-ten out-of-home bakery operators in the Bakery Market Report 2022, published by British Baker. You can download the report here.