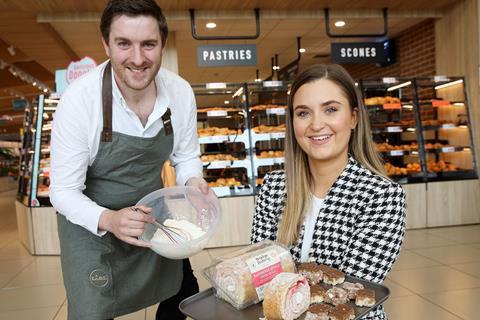 County Down-based Grahams Bakery has struck a £2.5m-a-year deal with Lidl Northern Ireland to supply baked goods to 215 of the supermarket's stores across the island of Ireland.
Under the agreement, the third-generation family-run bakery in Dromore will supply an eight-strong range of sweet bakery to the Lidl stores' confectionery aisles. The products are:
· Swiss Roll – Jam Ripple
· Swiss Roll - Chocolate
· Round Sponge Cake – Salted Caramel
· Round Sponge Cake – Triple Chocolate
· Round Sponge Cake – Carrot & Walnut
· Deluxe Mini Bites – Rocky Road
· Deluxe Mini Bites – White Chocolate Crispie
· Deluxe Mini Bites – Chocolate Popcorn Bites.
Timothy Graham, business development manager at Grahams Bakery, commented that the deal would help expand the business. "The support from Lidl Northern Ireland means we can share our range of delicious family recipes with a growing number of customers across the island of Ireland," he said.
"At Grahams Bakery, baking is truly in our genes. Our family business first began with my granny May almost 70 years ago, when she added a few leftover buns she had made for church to the window of her sweet shop and the rest, as they say, is history," Graham added.
Ciara Moran, buyer at Lidl Ireland and Northern Ireland, said the deal was consistent with the high value the retailer places on local supplier partnerships. "We're proud to work with an ever-growing network of more than over 50 local artisan food and drink producers to provide shoppers with an expanded choice of quality, homegrown produce," she said.
"We're delighted to expand our much-loved confectionery range with this new partnership. Grahams Bakery is one of the region's most successful independent family bakeries and we're confident that our new products will be a real hit with shoppers," Moran added.
The Grahams Bakery range will be available across all 41 Lidl Northern Ireland stores in the coming weeks, the retailer said.