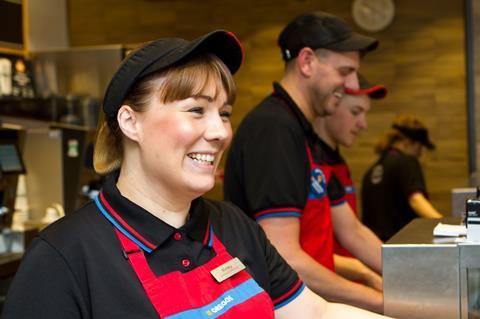 Greggs has launched a partnership with homeless charity Only A Pavement Away in its latest initiative aimed at supporting diversity and inclusivity in the workplace.
Greggs will work with the charity – which supports employment within the hospitality industry for those facing homelessness – in a bid to provide 'secure and sustainable' jobs for vulnerable people, the high-street baker said.
By 2024, Only A Pavement Away aims to create more than 700 jobs within the hospitality sector for individuals facing homelessness, prison leavers and veterans.
"I am delighted that Greggs has decided to become an employer partner with us," said Greg Mangham, chief executive at the charity.
"This is another great step forward for Only A Pavement Away as the Greggs' culture and ethos in helping people rebuild their lives mirrors our own beliefs and strategy. Yet another pathway open to our members in a company that puts its team first," Mangham added.
Among Greggs other work charity partners are: the Fresh Start programme, aimed at recruiting people with convictions from prison or probation; Workfit, the Down's Syndrome Association's employment programme; and BITC Refugee, offering employment training and permanent roles for refugee workers.
These partnerships, along with various others, form part of the company's wider sustainability plan, known as the Greggs Pledge.
"We are delighted to announce our new partnership with Only A Pavement Away which will enable us to provide further support to people facing homelessness," said Roisin Currie, the company's people and retail director. "We believe that by not overlooking any potential employees because of their past, we can select the right person and develop them to their full potential.
"The passion and energy for work that comes from people who are given an opportunity to kickstart their careers, or to turn their lives around is clear for all to see and as a business, we feel extremely motivated to do all we can to give these people a fresh start," Currie added.