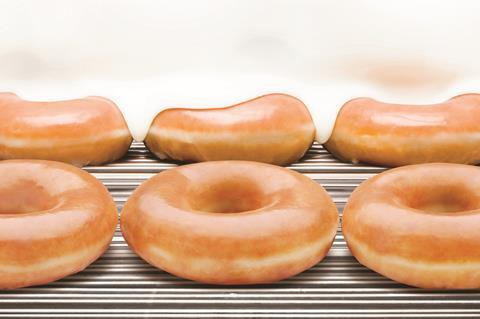 Krispy Kreme's digital cabinets are to rollout to a further 140 Tesco stores across the country following a successful trial.
The digital cabinets, which Krispy Kreme describes as a "fundamental step-change" to how doughnuts are presented and sold in store, were initially trialled in 15 Tesco stores from January. This included consumer research to analyse shopper behaviour, look at the drivers and barriers to purchase and gain wider feedback, which was "incredibly positive".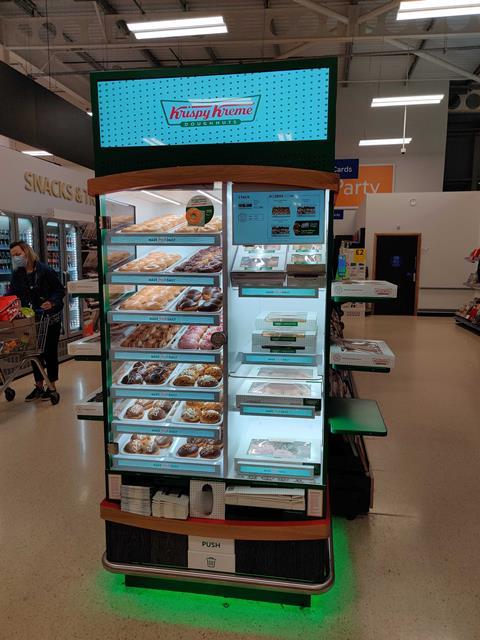 Each cabinet has digital screens which display messages such as 'made fresh daily' as well as tailored content depending on the store, time of day and the season.
They also have digital shelf edge labels (SELs) which display full ingredients lists, enabling customers to check for allergens. These are activated by a motion sensor when a customer walks in front of it switching the display to a waterfall of doughnuts to fixed product information.
"The initial trial in 15 Tesco stores has gone very well and we are now pleased to continue the rollout into many more," said Krispy Kreme's UK Sales Director, Suk Nicholas.
"The investment required represents a significant capital expenditure for our business, but it helps deliver a magical brand experience for Krispy Kreme lovers all around the UK, and that's why this is just the start of our evolution over to a 100% digital cabinet world."
Krispy Kreme partnered with IT specialists Theravada, which provide the hardware and software for the cabinets.
Theravada managing director Rob Craig added: "The cabinets really showcase the opportunity for brands such as Krispy Kreme to deliver a clear message and drive customer interaction in a very busy in-store environment."
In its full accounts for 2019, published last month, Krispy Kreme said its growth had been hit by Covid-19 but it was forging ahead with plans to open shops in 'quality, high profile' locations in 2020.