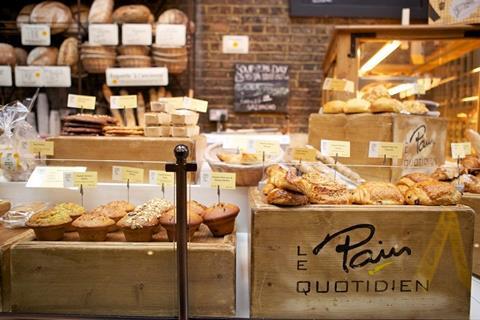 Belgian bakery-restaurant group Le Pain Quotidien is preparing to launch a range of baked goods intended for supermarket retail.
The chain – which has 15 sites in the UK – has commissioned food and drink retail consultancy Taste Shakers to help lay the ground for expansion. This will involve prioritising and streamlining supply for key product lines before managing growth on the grocery side of the business following launch.
"We've already developed a loyal following in our UK bakery-restaurants and now we feel the time is right to capitalise on this, bringing our products to a wider audience," said Frederic Lluch, managing director UK, Le Pain Quotidien.
"We're delighted to be taking this step with Taste Shakers. They have expert knowledge and established networks in the retail industry, which will be invaluable. They also bring with them a passion and enthusiasm for our products and our brand," Lluch added.
Taste Shakers – which is a joint venture between foodservice PR agency William Murray and retail consultant Category Wins – was created in 2020 with the aim of helping food operators capitalise on the growing popularity of restaurant-style options at home.
"With Le Pain Quotidien's established brand, high street presence and delicious premium baked goods, we're confident we can help bring their products to UK shoppers, boosting brand recognition while generating new revenue streams for their business," said David Marston, co-founder of Taste Shakers.
Fellow Taste Shakers founder Anita Murray said the enterprise was "delighted" to be working with Le Pain Quotidien. "The brand has weathered the storm, despite an incredibly challenging couple of years for the restaurant sector. Now, we're excited about working with them to move them onto their next stage of growth, bringing their delicious products to consumers across the UK," she added.