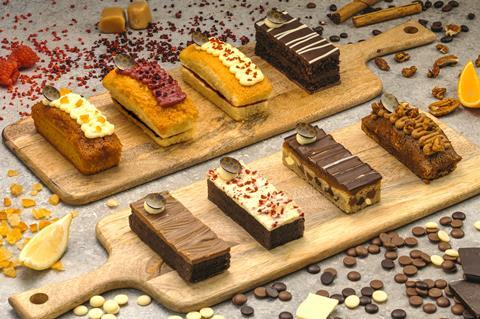 Warburtons is dipping its toe into the premium cake market with a new range launched under the sub-brand of Ellie Warburtons.
The product line-up, baked at the company's plant in Milton Keynes, comprises eight flavours, including Espresso Brownie, Lemon with Blackberry Compote, and Cookie Dough with Caramel.
The launch is on a six-month trial basis with the cakes being sold from two Yorkshire pop-up shops. The first shop will open in Skipton on 28 May, with the second branch in Harrogate opening on 4 June.
The sweet treats, sold individually for £3, will also be available to purchase online for home delivery from a dedicated website launching on 21 June.
Should the trial be deemed a success, Warburtons will seek listings for the cakes in major UK supermarkets, it said.
The Ellie Warburtons sub-brand aims to meet the demand for premium quality cakes driven by the Great British Bake Off, according to the parent company.
Chairman Jonathan Warburton said he was "thrilled" to introduce the new "deliciously indulgent" range to consumers.
"This is an exciting new venture for our family business, and we are taking very much an entrepreneurial approach to how we build the brand while bringing with us the core of Warburtons ethos – quality and taste," he added.
"I hope that a slice of Ellie Warburtons will become a firm favourite with families up and down the country – my slice of choice is the Espresso Brownie."
The launch comes amid a busy time for the firm which has just announced a £56m investment programme in its manufacturing and distribution operations, which includes an £8m crumpet plant and £18m thin bagels line.
However, the cake launch represents a further shift in focus away from bread as consumers switch to other wrapped bakery lines such as crumpets, muffins and thins. This move has led Warburtons to assess its crewing requirements at its Wednesbury site, which could result in job losses.