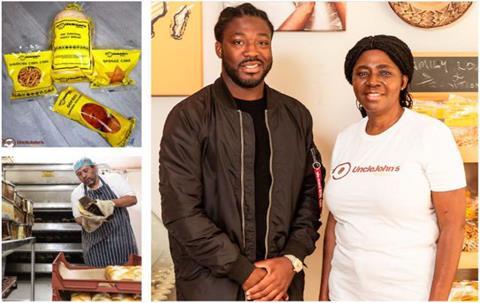 Drawing on its Ghanaian roots, Uncle John's Bakery has found a home in North London and grown from a husband and wife operation to supplying a national retailer.
"Obeyeyie" – meaning "life will get better" in Ghanaian dialect Fanti – was a phrase often uttered by Emelia Mensah to her husband John in the early days of their bakery business. It started as a side project for John, known in the community as Uncle John, who craved the sweet bread flavoured with a blend of spices and Madagascan vanilla from his home country Ghana. Having acquired a family recipe from his mother "Nana Mary", he set to work.
"My dad would spend nights in a local bakery after his day job in a factory in order to produce sweet bread," says Samuel Mensah, director at Uncle John's Bakery (pictured above with Emelia). "Thieves would steal bread from his van at night as he was so tired he often fell asleep and could not watch over his stock."
Word spread in the local Ghanaian community about the home-style loaves and, in 1995, Emelia and John opened their own shop on West Green Road, Tottenham. John was joined in the kitchen by his mother-in-law Mary Fofia Arthur who taught him how to make cakes, pies, pastries and doughnuts to help broaden the menu. Ghanaian doughnuts known as bofrot, thin biscuits called chin-chin and meat pies still grace the menu today, alongside sponge cakes, bread rolls and all-butter scones.
Improving efficiency was one of the first things on the agenda for Samuel after joining the business in 2014. "I wanted to carry on my parents' legacy and grow it for generations to come," he says. "Despite various difficult times, our love for Uncle John's Bakery as a family has underpinned our success – a love passed down from generation to generation."
Using freehold funds held within the bakery, Uncle John's invested in equipment, staff and two production units up the road from the original shop, as well as a rebrand and refit of the store. This also led to a supply deal with Tesco in 2015.
It now supplies businesses across the country via a wholesaler and secured a deal with Morrisons to supply more than 40 stores which Samuel ascribes to it achieving Safe and Local Supplier Approval. This showed the likes of Morrisons that the bakery cares about quality, its staff and its factory.
Further growth is on the horizon. "We want to get more supermarkets on board, supplying hotel chains and airlines," Samuel adds. "My vision is that within the next few years we'll scale up the factory again to bring the two sites under one roof."
Timeline
1995 – John and Emelia Mensah start Uncle John's Bakery and are joined by Emelia's mum Mary Fofia Arthur
2003 – Mary sadly passes away
2014 – Second-generation Samuel Mensah comes on board
2016 – With help from Haringey Council, production is moved to two units in Tottenham
2018 – Uncle John's Bakery achieves Safe and Local Supplier Approval (SALSA)
2019 – Four products – The Original Sweet Bread, Savoury Chin Chin, Bofrot and Sponge Cake – hit the shelves in Morrisons stores across the nation