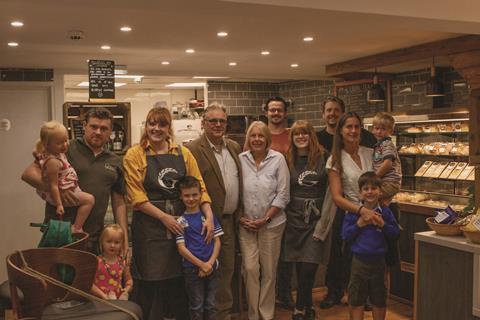 Ray Redrup, founder of Grace's Bakery on the Isle of Wight, never planned to be a baker.
At the age of 15 he made a bet with a friend as to who could get a job the quickest. Conveniently, a local bakery in Romford, Essex, where he lived at the time, was hiring.
Like many, Ray's career has had its ups and downs – one of which saw his first bakery business go bankrupt. Not to be deterred, he vowed to try again, albeit in a new location and with a much closer eye on the cash flow.
"Our family is originally from the island, so he sold his house and put every bit of money into starting a new bakery," explains Sarah Redrup, marketing manager at Grace's Bakery and Ray's daughter. "My mum thought he was crazy."
He named the new business after his nan, Grace (right), with whom he had a close relationship. The first shop was on Ryde high street, where the main bakehouse remains to this day.
"Dad says they opened the shop with just enough money to have a float," notes Sarah. "It was just my mum in the shop and my dad in the bakehouse, which was a tiny little room. We actually lived on the other side of the island so he had a camp bed and would often sleep in the bakery."
From a team of two, Grace's has grown to 80 staff working across six shops and production. This includes Sarah who works alongside her brothers, David and Daniel, and twin sister Jodie, as well as mum Carole, uncles Mark and Derek, nephew Dylan and cousin Kirsty, with jobs ranging from HR to bakehouse operations.
"With a small business you're already trying to achieve big things on a shoestring budget, so you have to learn to do everything yourselves"
The plus side to this is "we all trust each other to have the business' best interests at heart. When there are problems we can band together and get it done," she adds.
The product lineup has also grown and changed from a bread-based portfolio to one more focused on grab-and-go items, like sausage rolls. Interest in sweet treats such as bestseller Belgian buns, Blobby biscuits (shortbread decorated like Mr Blobby) and ring doughnuts has stayed steady.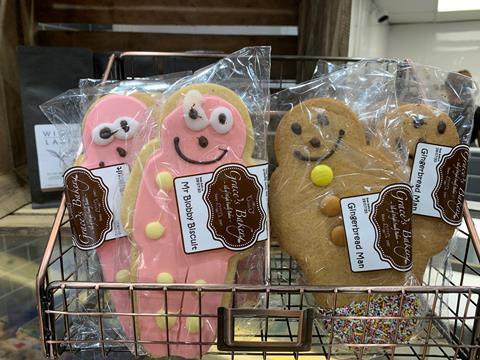 "Dad was interested in making French patisserie-style treats but the people on the island didn't want to know. He made Belgian buns instead and they have remained our most popular cake," Sarah says.
Grace's secured its first wholesale customer, Vic's Stores, in 2001 and opened its second store in Newport. To keep costs down, Ray has decorated all the shops himself to date.
"With a small business you're already trying to achieve big things on a shoestring budget, so you have to learn to do everything yourselves," Sarah says.
Wholesale now accounts for 50% of its business, supplying the likes of Central Stores, Premier stores plus cafes and restaurants and a local hospital. Sandwiches joined the roster in 2009 and has since become a huge part of its offering, particularly after securing the Wight Link Ferry contract in 2019, which can see orders of up to 3,000 sandwiches a night.
"We've expanded a lot because of that contract," notes Sarah. "They're a massive customer and we're really glad they've decided to support a local business."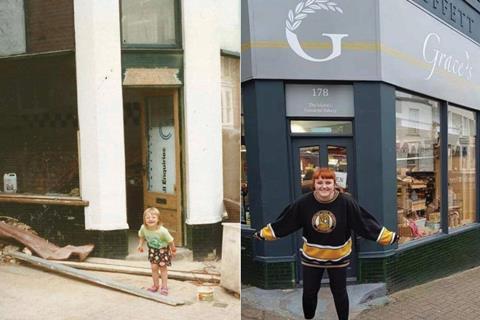 Covid-19 changed things but Grace's switched gears and started selling its products online – which now accounts for 10% of its sales – supplied the local hospital with sandwiches for patients and bagged hundreds of bags of flour for nearby convenience stores following the shortage of retail packs.
"At the start, my dad thought it was going to be the end of us," Sarah says. "Wight Link stopped running so we lost our biggest wholesale customer."
The shops remained open the whole time, however, as Grace's felt it had an "obligation" to locals to make its products accessible, as well as a responsibility to the people it employs.
Looking to the future, Grace's is focusing on boosting business after Covid-19 and potentially even looking at making its goods available to folks on the mainland.
But the islanders will always be at the heart of what it does.
"We're part of the community," Sarah adds. "We live here, we're not just doing it for the profit."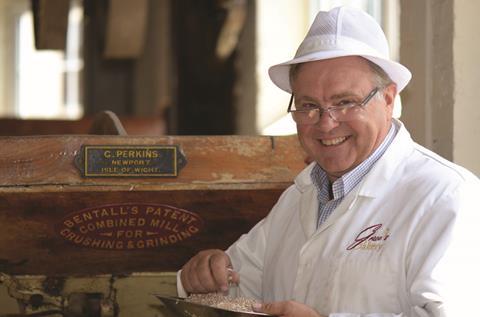 Timeline
1997: Ray Redrup (above) opened the first Grace's Bakery shop on Ryde high street
2000: Daniel, Ray and Carole's son, joined the business
2001: A second shop in Newport was opened and Grace's secured its first wholesale customer
2006: A third shop was opened in Shanklin
2009: Grace's expanded its product lineup with sandwiches for a local Spar shop
2017: Sarah joined and modernised Grace's with a rebrand
2019: Grace's secured a contract with Wight Link to supply its ferries with a range of sandwiches