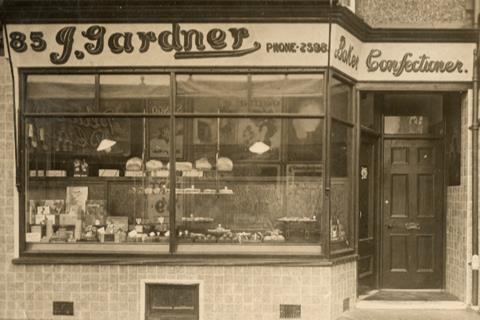 Gardners Bakery has evolved over its 110-year lifespan, from a single bread shop to producing celebration cakes and cookies for consumers across the UK.
The Northampton-based bakery was born in 1910 as J Gardner, when James Gardner, a baker by trade, and his wife Agnes decided to start their own business. Originally focused on bread, when James passed the bakery onto his son, Joe Gardner, a cake decorator and baker, he expanded the business into making and icing wedding cakes.
In 1937, Joe purchased a second shop in Whitehills, and also started to produce smaller treats, such as jam tarts and tea-time cakes.
Joe's son Roger Gardner and his wife Marylyn became the third generation to join the firm in 1963. They also expanded the product range, introducing birthday cakes and, later, pasties and sausage rolls as demand for takeaway food began to grow.
Joe passed the bakery on to the couple in the late 1980s, and their daughter, Helen Gardner, became the fourth generation to work in the business, followed by her sister Jayne in 1990.
In 1997, the team visited a US bakers' convention in Minneapolis, which led to the bakery becoming one of the first in the country to offer edible photos on cakes.
"Each member of the family that took the reins of the business has brought something different to it," says Helen, the current owner. "The key is to move with the times. You have to work out what is needed now, then bring that to the table and move it on."
The new century saw the name of the business change to Gardners Bakery, while Helen's daughters – Amber Lucas in 2010 and Leila in 2014 – began working at the business on a part-time basis before becoming managers.
In 2012, the Gardners Cakery shop in Market Harborough was opened, before the firm branched out into cookies and vegan products with its Gardners Cookies online service in 2018.
Gardners' most popular product is its Angel Cake, consisting of Genoese sponge filled with strawberry flavoured jelly and cream. The pink and white cake is also a key component of its wedding cakes.
Although the bakery has been closed due to Covid-19, it has reopened its online store and is taking pre-orders before the business reopens this month.
In the year it celebrates its 110th anniversary, all the staff running the business are women, points out Helen, adding that women have played an important role throughout the bakery's life. "We're hoping the business will be back up and running soon, so we can see where it can go next," she says.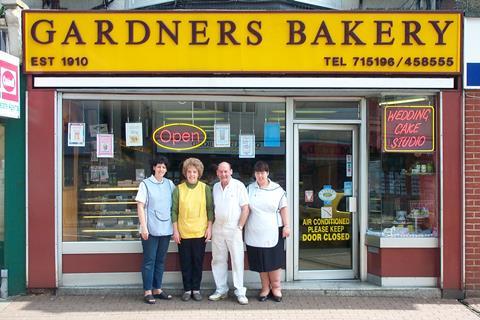 Timeline
1910: J Gardner is established by James Gardner and his wife Agnes
1937: A second shop in Whitehills is purchased by James' son Joe Gardner
1963: Third-generation couple, Roger and Marylyn start making birthday cakes
1997: The team acquires Kopykake edible photo cake software after a visit to the US
2003: The business' name is changed to Gardners Bakery
2012: Gardners Cakery in Market Harborough is opened
2018: The bakery branches out with Gardners Cookies and online sales