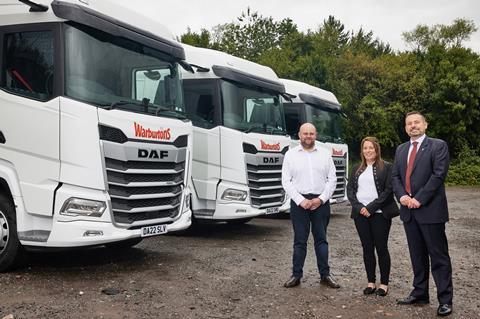 Bread giant Warburtons has signed a deal with commercial vehicle specialist Asset Alliance Group for the supply of 26 new tractor units.
Provided on a three-year full-service contract hire basis, the DAF XF 480 trucks are direct replacements for previous rentals supplied by Asset Alliance Group.
The new assets, which join a fleet of over 1,000 vehicles, will be based at Warburtons sites in Bellshill, Wakefield, Nottingham, Bolton and Enfield, and will help deliver products from Warburtons' 11 bakeries and 16 depots across the UK.
"Delivering products direct to stores across the UK, fresh every morning, is incredibly important for us and having the right vehicles to do the job is essential," said Jonathan Heaton, Warburtons fleet engineer. "The new DAF units from Asset Alliance Group are highly specified and have multiple new technologies."
Covered under a DAF repair and maintenance contract, the new tractor units are kitted out with DAF's Digital Vision System, including camera mirrors and recording cameras, as well as tracking technology to provide intelligence on vehicle and driver performance.
Warbutons has been a rental customer of Asset Alliance Group since 2018, with the vehicle company initially providing 10 tractor units to the bakery brand, increasing to 26 units and six trailers over the years. The latest deal has been managed by group sales director Paul Wright and national rental manager Kerry Anne Grogan.
"We're very happy with the service," Heaton added. "Our relationship with Asset Alliance Group goes from strength to strength. They are always willing to go the extra mile to help us."
Warburtons bakes more than two million products every day and delivers them to around 18,500 retail customers daily.
Over the past two years the bread maker has been introducing bio-CNG (compressed natural gas) vehicles to its fleet, alongside investment in zero-emission trucks.