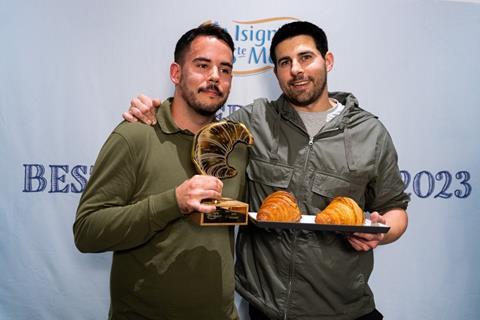 A croissant by London-based Chestnut Bakery has been named the best in the UK at the inaugural Best Croissant UK Awards.
The bakery fought off competition from 85 entrants, who received a combined total of 26,000 public votes. The entrants were then whittled down to 10 finalists for the final stage of judging, in which they presented their croissants to a panel of expert judges.
The 10 finalists were: Café Kitsuné, Maison Puget, The Carlton Tower Jumeirah, Indigo Bakes, Weirdough Bakery, Harrods, Chez Maitre, Two Brothers Bakery, and La Boulangerie Artisan.
The panel was comprised of Gilles Quillot, executive chef at the French Embassy, Benoit Blin, executive pastry chef at the hotel-restaurant Manoir aux Qaut'Saison, Camille Perotte, 2019 winner of French TV show 'Le Meilleur Pâtissier', Richard Bertinet director of The Bertinet Cookery School, Felicity Cloake, food journalist and book author, as well as the 2016 winner of the Great British Bake Off, Candice Brown.
The judging process included a thorough appraisal of the croissants' shape, regularity, volume, as well as colour, layering and texture, and of course the all-important taste.
London-based businesses filled out the podium with Chestnut Bakery's croissant taking first place, followed by the one from Harrods in second, and the croissant from fellow London firm Café Kitsuné coming in third.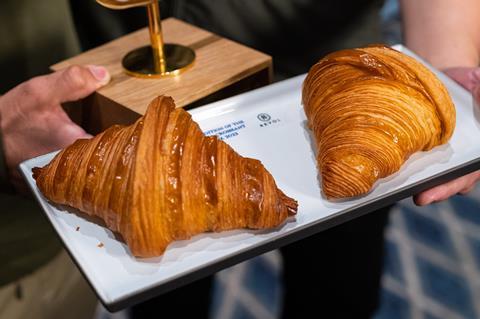 "We're thrilled to have received such fantastic response to our winning croissants," said Chestnut Bakery's head baker, Brock Afford and executive baker, Charles Leroy.
"It was a joy to receive incredible feedback from everyone on the panel and has given us an immense sense of achievement – we're feeling very proud."
Chestnut Bakery has sites in Covent Garden and Belgravia. It specialises in pastries such as the award-winning croissant and pain au chocolat, as well as flatbreads, which are served fresh from the clay oven and topped with the likes of fig, goat's cheese & hazelnuts, or burrata, burnt honey, sesame & fennel seeds.