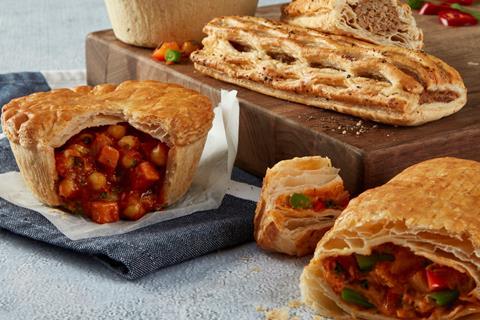 The Compleat Food Group has added to its portfolio with the buyout of pie specialist Wrights Food Group.
The Compleat Food Group was formed in October 2021 when Addo Food Group and Winterbotham Darby were joined together under the same brand by owner PAI Partners. Previously, the two companies had been run separately with their management teams remaining in place following their acquisition by the private equity firm in November 2020.
The addition of Wrights 'further strengthens the The Compleat Food Group providing incremental scale while continuing its diversification into the foodservice/B2B channel and expanding the group's customer base', the company said.
Wrights, a family firm which was originally formed 1926, is based in Crewe where it employs 570 staff at its headquarters and factory, manufacturing savoury products (including pies, pastries and quiches), cakes and ready meals for restaurant brands, foodservice distributors and independent bakers.
The company also owns the bread brand Sheaf Street Bakery and vending machine operator Urban Bistro, as well as 15 Wrights bakery stores across north west England. The first lockdown in 2020 also saw the establishment of the Wrights Bites food delivery service.
In its most recent accounts for the 12 months to 4 January 2021, Wrights recorded an annual turnover of £54.3m and a pre-tax profit of £1.4m, compared with £5.4m for the previous year. In January 2021 the company named Ian Dobbie as its new managing director, brought in to work alongside chairman Peter Wright and the board of directors to focus on growth across all trade channels. The appointment was made following a 20% increase in the firm's retail sales, partly on the back of a new seasonal range for Marks & Spencer.
Paul Monk, executive chair of The Compleat Food Group, welcomed Wrights into the company's pastry division. "This move enables us to better serve our customers and offer a greater range of products, helping the group to further strengthen its position in UK retail and foodservice," he said.
The Compleat Food Group was advised by Alvarez and Marsal, Dickson Minto and Houlihan Lokey for the acquisition, while Wrights Food Group was advised by Oghma Partners and Knights plc.
Mark Lynch, partner at Oghma Partners, said he was "thrilled" to be involved in the deal. "It was important to Peter to pass the ownership of his business to a purchaser that would build on the legacy which the Wrights family worked so hard to create," Lynch added.