It's a battle of David vs Goliath in doughnut land as smaller players look to stake their claim on the category.
"The doughnut market is changing to much smaller and independent doughnut shops, taking market share from the big boys," says Adam Cohen, marketing manager at I.T.S. "For a sector that has been dominated by key players for such a long time, it is great to see plenty of newcomers to the scene."
Doughnut Time, Planet Doughnut and Project D are some of the firms to hit the UK scene in recent years, with healthier proposition Urban Legend emerging in August.
So, can these brands really take a bite out of the big boys' market share? What steps are they taking to achieve this? And how are the industry's behemoths fighting back?
There's been plenty up for grabs of late, according to finished goods manufacturer Baker & Baker, which includes doughnuts among its portfolio, highlighting Kantar data that values the at home consumption doughnut market at £103m, having grown by 47% over the past five years. Retail sales have taken a slight tumble owing to the pandemic, but there's been "strong recovery" of late.
Ring doughnuts, notes Baker & Baker's UK marketing manager Helen Sinclair, are now the "market leader in terms of shape, replacing traditional ball doughnuts, and now represent more than 40% of retail sales", with filled ring doughnuts proving popular among consumers.
The good news is there's still opportunity for growth. The European doughnut market is projected to see a compound annual growth rate (CAGR) of 6.2% over the next five years, notes Jacqui Passmore, marketing manager UK and Ireland at Dawn Foods. "Additionally, the UK's doughnut ingredients market is also projected to increase with CAGR of 5.7%, showing that the category is growing in demand and popularity," she explains.
Premium offerings are a catalyst for growth as Passmore adds that jam-filled or glazed treats may be "timeless", but the market has "come a long way from offering just the classics in the last few years".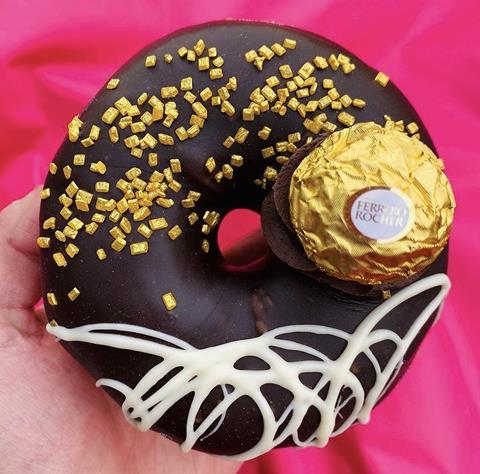 Money talks
It's this that many of the newcomers have focused on, succeeding in delivering unapologetically indulgent treats and gaining a cult-like following in the process. What's more, many of these brands are investing heavily in their operations as they seek to widen their reach.
"We simply can't make enough doughnuts to keep up with demand," boasts Jacob Watts, co-director of Derby-based Project D. "We're aiming to be producing 300,000 doughnuts a week as soon as possible and our postal delivery service is already nationwide."
The business opened a new production bakery in Spondon in late 2020 which acts as a central hub for its operations. The 11,000sq ft unit is 11 times bigger than its former production site and houses equipment including mixers, cutters, and a proofer as well as a pre-loved 1971 German Rollfix Sheeter, which Watts describes as "a real gem" having made more than two million doughnuts for Project D over the last couple of years.
We simply can't make enough doughnuts to keep up with demand
It's also put £250,000 into new kit to speed things up further. "The biggest investment we have made is in a Canol Doughnut Production Line, which will allow us to step up production massively – we intend to triple it," adds Watts. "At the moment we are still making everything by hand, but this bespoke machine will take away some of that manpower to be redeployed to hand finishing roles."
Investments such as these are helping Project D towards its ultimate goal of becoming "a household name", with more distribution hubs and a return to the high street on the cards soon.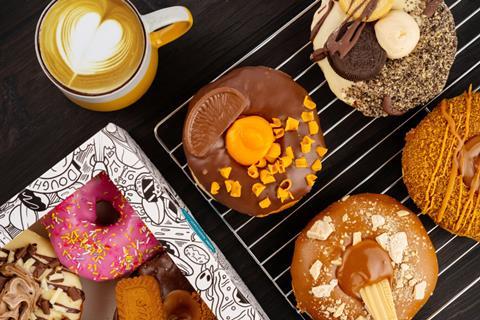 Shropshire-based Planet Doughnut has also moved to a new production base – a 10,000sq ft unit which also houses its head office, doughnut academy and on-site café – after receiving £115,000 from the Marches Building Investment Grant. At full capacity, working 24 hours a day, the firm could produce more than 520,000 doughnuts a week, having invested heavily with Mono Equipment for its fryer capabilities and Rondo for its doughnut line.
Duncan McGregor, who set up Planet Doughnut in 2017 with his wife Samantha and now has three shops and a nationwide delivery operation, believes that the independent doughnut market is ripe for expansion. "It is full of innovation and you will see more and more independent doughnut shops opening with new ideas," he says. "My hope is we end up like America with a 'mom and pop' doughnut shop in each town."
A franchise model is in the works to help with expansion into other areas, with Planet Doughnut's offering available in retailers across the Midlands, Cheshire, and Wales.
Meanwhile, Doughnut Time, which hit UK shores in 2017, sought to corner an underdeveloped area of the market with a 'significant investment' in a gluten-free kitchen this year.
Room for everyone?
Despite the march from smaller businesses, the market's biggest players aren't resting on their laurels.
Supermarket Morrisons, which whips up more than two million doughnuts in its stores every week, sought to replicate the independent doughnut experience that has proven such a hit with younger consumers. The result was a concept called Doughnut Shop, which was rolled out to 70 stores. Here, shoppers can buy doughnuts that have been made from scratch in store and decorated by its cake shop staff, with six new-to-market flavours including Sprinkly the Best, Cuts the Custard and Loaded Brownie doughnuts.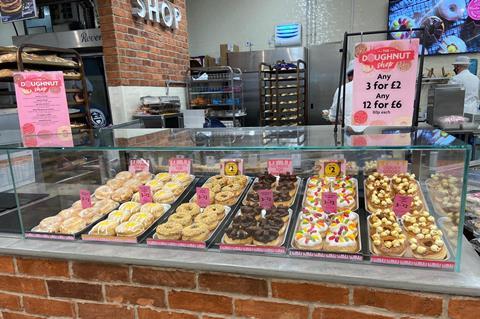 "We are looking at how we can extend this offering to further stores, whether that be from additional counters or more likely a self-serve unit where customers can select their own assortment," explains Caroline Bates, head of trading – bakery and cake, for the retailer.

Meanwhile, Baker & Baker – which rolls out up to 26,000 doughnuts an hour at peak times from its Wirral production site – is eyeing growth outside of the UK. "Expanding our geographical distribution, particularly within international markets, is a key priority for us," says CEO John Lindsay. "We already have a strong category footprint for doughnuts in Germany, but there are countless opportunities across American sweet bakery for growth."
As the market expands, so too will creativity. "Doughnuts will only go one way, becoming more and more adventurous," says Michael Schofield, marketing manager at Bakels. "We already see weird and wacky creations coming from across the pond, as producers push the boundaries of what can be done with doughnuts."
Doughnuts will only go one way, becoming more and more adventurous
Watts from Project D believes consumer appetite for doughnuts will also boom, like it has done in the US where the industry is worth around $7bn. "There are 25,000 doughnuts stores in the US and they're making more than 10 billion doughnuts a year," he explains. "It's likely that the UK doughnut market will follow suit."
With so much growth projected, it might not be a case of David vs Goliath. Perhaps there is room for everyone.