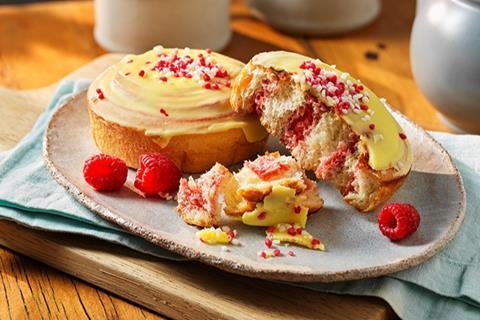 Tesco has expanded its own-label line-up of sweet treats with 39 new products including Jam Trifle Buns, Banoffee Tarts, and Chocolate Chip & Caramel Scones.
Brownies, brioche, scones, and pastries were among the lines to be introduced earlier this month, with many embracing the continuing trend of 'twist on a classic'.
Chocolate, coffee, and caramel flavours feature heavily throughout the new range alongside fruity flavour combinations such as rhubarb & ginger, white chocolate & raspberry, and banana & salted caramel.
Tesco said the NPD covers all occasions from mid-week breakfasts to weekend brunch, lunchtime treats, and even a surprise for a friend.
Here is a closer look at some of the items in the range (see below for the full list).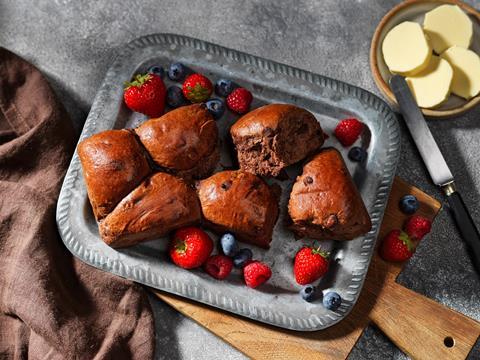 Finest Chocolate & Salted Caramel Tear & Share Brioche
This brioche (£2.75) is enriched with dark and milk chocolate and is filled with salted caramel fudge pieces to deliver a 'rich and indulgent' flavour profile.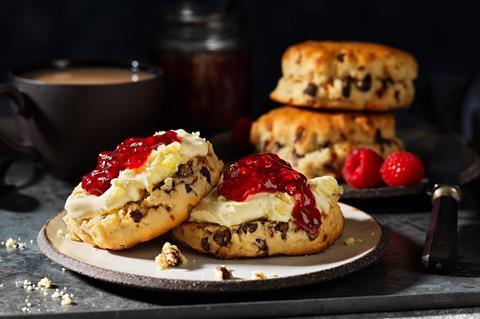 Finest Chocolate Chip & Caramel Scones
A contemporary version of a family favourite, these scones (£1.80) are enriched with Belgian chocolate chips, clotted cream, and smooth caramel pieces.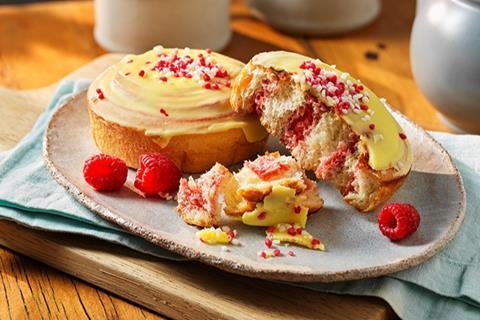 Jam Trifle Buns
These soft, sweet buns (£2.75 for a two-pack) are described as a tasty twist on the classic raspberry trifle. They're swirled with a raspberry jam filling and topped with vanilla flavoured icing as swell as a sprinkle of sugar pearls for some added texture.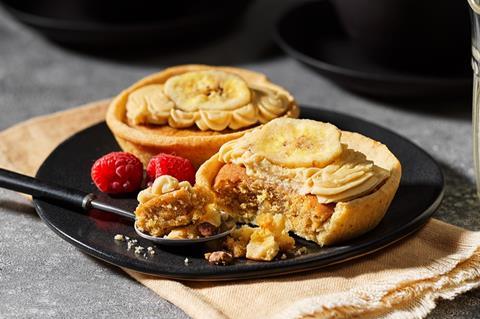 Banoffee Tarts
Another dessert reimagined. These banoffee tarts (£2.25 for two-pack) see all-butter pastry bases filled with a sweet banana and chocolate chip sponge, topped with toffee buttercream, and finished with a banana chip.
Finest Toffee Popcorn Loaded Brownies
Tesco has added an extra layer of indulgence to its brownies. The milk chocolate brownies (£2.50 for two) are topped with crunchy, spiced biscuit pieces, sea salted popcorn and Belgian blonde chocolate to deliver what the retailer describes as 'the ultimate indulgent treat'.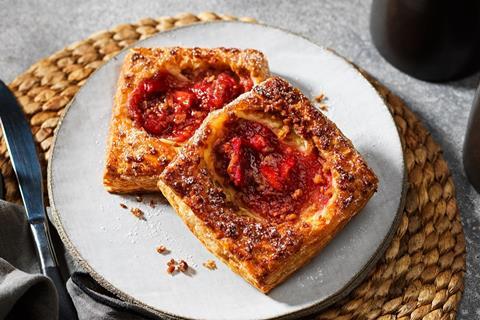 Finest Rhubarb & Ginger Pastries
Part of the in-store bakery range, these Danish pastries (£2 for a two-pack) comprise 24 layers of flaky pastry, a mellow rhubarb, warming ginger, and creamy custard filling – all topped with a speculoos crumb.
Here is the full list of Tesco's new sweet treats:
Two Bread & Butter-style Pastries
Rhubarb & Ginger Danish pastries
Two Peach & Almond Danish Pastries
Two Coffee & Walnut Muffins
Four Salted Caramel Latte Cookies
Two Banoffee Tarts
Two Toffee Popcorn Loaded Brownies
S'more Loaded Brownies
40 Mini Brownie Bites
Two Jam Trifle Buns
Two Trillionaire Buns
Two Cinnamon Buns
White Chocolate Rocky Road Bites
36 Flapjack Bites
30 Cornflakes Clusters
Trillionaire Pancakes – launching w/c 23 October
Banana & Salted Caramel Pancakes – launching w/c 23 October
Chocolate & Caramel Scones
Orange, Sultana & Honey Scones
Chocolate & Caramel Tear & Share Brioche Loaf
Loaded Caramel Flapjack
Crammed Granola Bar
Chocolate & Salted Caramel Cake
Nine Selection Mini Cupcakes
Trillionaire Cupcakes
Naked Chocolate & Vanilla Cake
Blonde Cake
White Chocolate & Raspberry Cake
Trillionaire Cake
Red Velvet Cake
Belgian Chocolate Cake
Lemon Cake
Safari Cake
Tesco Chocolate Hidden Centre Cake
Tesco Eton Mess Cake
Tesco Sweetie Cake
Chocolate Cake
White Chocolate Cake
Rainbow Cake
Blossom Cake
Princess Tiara Cake
Unicorn Cake
Pick & Mix Cake
Loaded Brownie
Brookie
Rocky Road
Free-From Sticky Toffee Muffin – launching w/c 23 October