Co-op aims to be the shining stars of convenience this Christmas, unveiling more than 30 easy-to-bake items and sweet delights.
The retailer has redeveloped its own-label range of party food, with simplified cooking instructions and air-fryer guidance, as well as its premium-tier Irresistible range. These include classic yuletide recipes and innovative twists in products including sausage rolls, vol-au-vents, and pizza puff dippers, along with cakes, puddings, biscuits, and of course, mince pies.
There's also the Christmas sandwich range, sales from which are set to raise £5m for UK charity Barnardo's. "The money will help support 750,000 young people and provide access to basic needs like food, as well as managing their mental wellbeing and access opportunities for their future," says Nicole Tallant, Co-op's head of delicious food.
Here's what bakery offerings Co-op has in store for festive shoppers: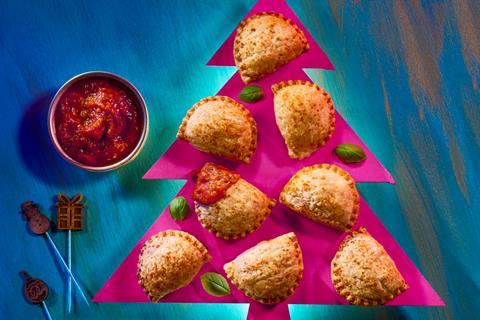 Pizza Puff Dippers with Tomato & Basil Sauce
Proclaimed by Co-op as a party food must-have, these pastry-style empanadas come with a creamy tomato and mozzarella filling and a fresh tomato & herb dipping sauce.
Rsp: £3.25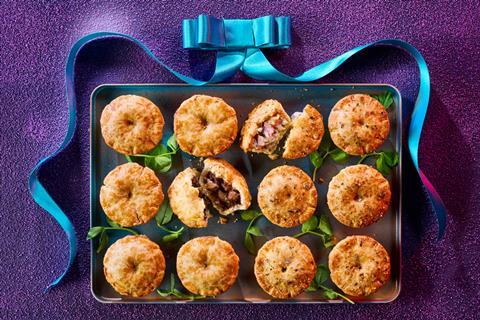 Mini Pie Selection
Part of the Irresistible range, this bite-sized dozen features domestically sourced meats and traditional flavours baked in butter-enriched shortcrust pastry. Each pack contains six mini pies containing British beef cooked in an Old Rich Speckled Hen Ale gravy, and six mini pies with British chicken cooked in a rich cream sauce with outdoor-bred smoked ham hock and leeks.
Rsp: £5 for a 12-pack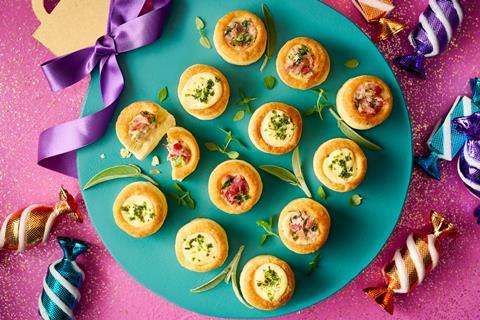 Pioneer Crunch Vol-au-vents
Another decadent dozen to present on a platter are these vol-au-vents, which showcases the Pioneer Crunch cheese created for Co-op's Irresistible range. Half the box is cheese & ham hock topped with cracked black pepper, and the remaining six are cheese & onion topped with chives.
Rsp: £5 for a 12-pack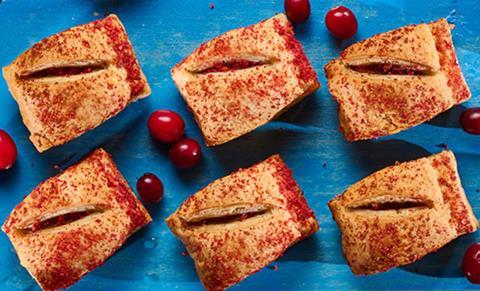 Festive Sausage Rolls
This sausage roll comprises seasoned British pork, sage & onion stuffing, and cranberry sauce, wrapped in a flaky puff pastry. There's a 210g pack of mini rolls dusted with beetroot powder crumb (pictured) to share out with your guests, or an individually-wrapped 100g roll as an on-the-go snacking option.
Rsp: £3.25 for a six-pack (210g) / £1.35 (100g)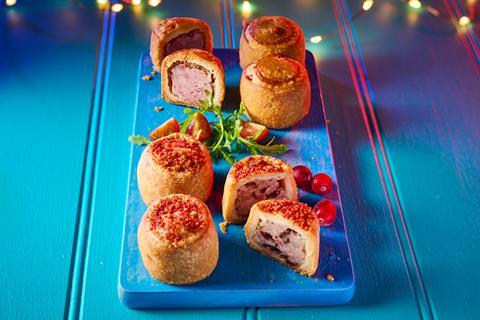 Festive Pork Pies
Three of pies in this six-pack of traditional Pork pies are topped with sweetened dried cranberries.
Rsp: £3.25 for a six-pack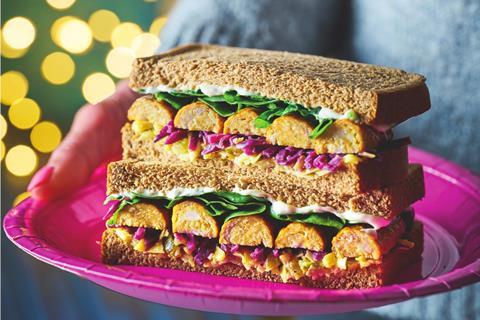 Christmas Market Sandwich
"Our dedicated team of developers have sampled Christmas market favourites up and down the country to create this delicious sandwich that transports you to the wooden stalls that light up our cities in December," says Nicole Tallant, Co-op's head of delicious food. The premium offering has currywurst-style pork sausage with Cheddar cheese, sauerkraut, tangy mustard mayo, and gherkins on dark rye bread.
Rsp: £3.85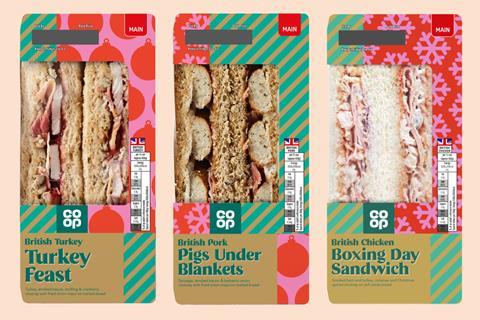 Festive sandwiches
Turkey Feast Sandwich
Enjoy all the flavours of a Christmas Day meal without the hassle of cooking one. This sandwich features turkey, sage & onion stuffing, smokey bacon, onion & stock mayonnaise, cranberry sauce, and spinach, in between slices of malted bread.
Rsp: £3.25
Pigs Under Blankets Sandwich
Unlike its traditional "in blanket" sibling, this item is served under a blanket of malted bread, and includes pork sausage, smoked bacon, mayonnaise, balsamic onion chutney, and fried onions.
Rsp: £3.25
Boxing Day Sandwich
Honouring the Christmas custom of savouring leftovers on Boxing Day, this sandwich comprises roast shredded chicken, ham, creamy Cheddar, coleslaw, and spiced chutney on white bread.
Rsp: £3.25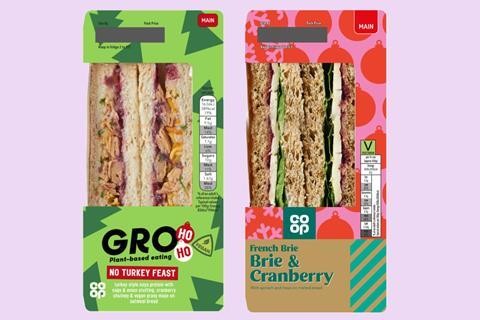 Meat-free sandwiches
Gro Vegan No Turkey Feast Sandwich
Ensuring vegans are not left out in the cold this Christmas is a sandwich stuffed with soy protein strips, maple vegetable ribbons, gravy & stuffing, mayo and cranberry chutney on oatmeal bread.
Rsp: £3.25
Brie & Cranberry Sandwich
Festively familiar creamy and tangy elements combine in this sandwich – brie cheese, cranberry chutney, seasoned mayonnaise, and spinach on malted bread.
Rsp: £3.25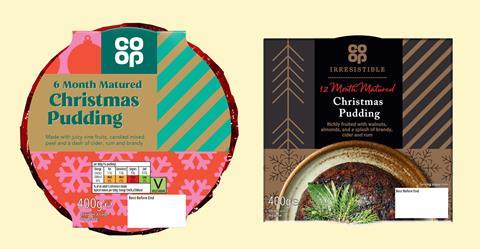 Christmas Pudding
Richly Fruited Christmas Pudding
Ready for a blazing finale to your Christmas feast is this 400g Christmas Pudding, which has been matured for six months.
Rsp: £2.50
Irresistible Christmas Pudding
Co-op may have doubled the price for their premium 400g pud compared to the standard one, but they've also doubled the maturing process to 12 months.
Rsp: £5

Mince Pies
Merry Mince Pies
Festive staples without the sleighbells and whistles, made with crisp shortcrust pastry and a classic fruity mincemeat.
Rsp: £1.25 for a six-pack
Luxury Mince Pies
Richer-tasting mince pies appear in the Irresistible range, featuring mincemeat enriched with fruity brandy and ruby port, almonds and walnuts.
Rsp: £2.75 for a six-pack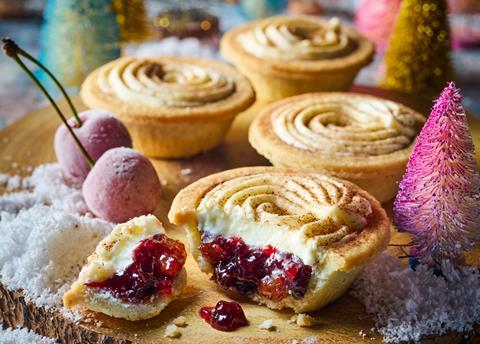 Black Forest Mince Pies
Co-op are introducing a twist on tradition with these Black Forest Mince Pies, which are filled with a fruity brandy & port mincemeat, and morello cherry compote, and topped with kirsch frosting and Belgian chocolate snow. "It's not easy to have just one!" reckons Tallant.
Rsp: £2.65 for a four-pack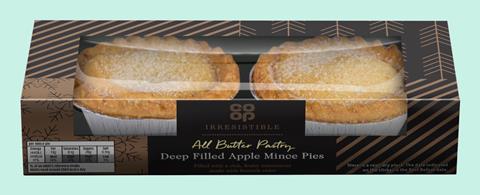 Deep Filled Apple Mince Pies
This Irresistible product is all about the humble homegrown apple. All-butter shortcrust pastry is filled with mincemeat made with Bramley apple, sultanas, raisins, mixed spice and Kentish dry cider.
Rsp: £1.50 for a twin-pack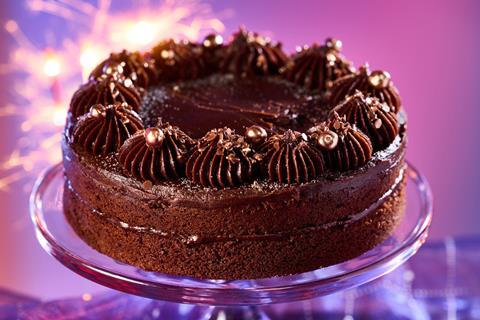 Chocolate Indulgence Cake
This seven-inch, two-tier cake of the Irresistible range makes for a perfect end to an lavish meal. Chocolate sponge cake is filled with chocolate frosting, and finished with Belgian chocolate drops and golden crunches.
Rsp: £7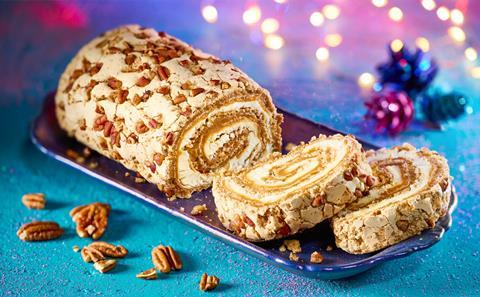 Toffee & Pecan Roulade
Another US-style dessert, this features slow-baked brown sugar meringue layered with British whipped cream and buttery toffee sauce, before being rolled up and topped with hand-scattered pecan nuts.
Rsp: £6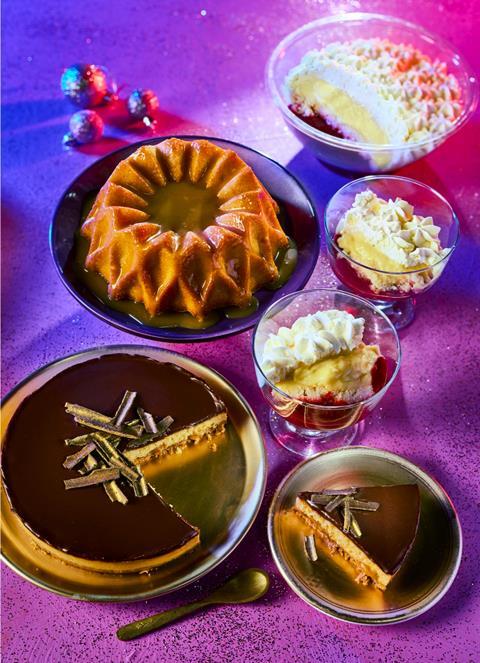 Desserts
Golden Sponge Crown
Making its return for the Christmas season this year is the luxurious all-butter and blonde chocolate sponge, which is served with a melting salted caramel sauce.
Rsp: £7
Strawberry & Raspberry Trifle
This classic trifle, part of the Irresistible range, is constructed with layers of raspberry and strawberry compote, sponge, vanilla flavour custard, and sweetened whipped cream topping.
Rsp: £4.50
Billionaires Cheesecake
Co-op's version of the ultra-rich dessert features a toffee-flavoured cheesecake with lashings of salted caramel laying on top a speculoos biscuit crumb base, all topped with a dark chocolate glaze and decorated with gold-lustered dark chocolate.
Rsp: £5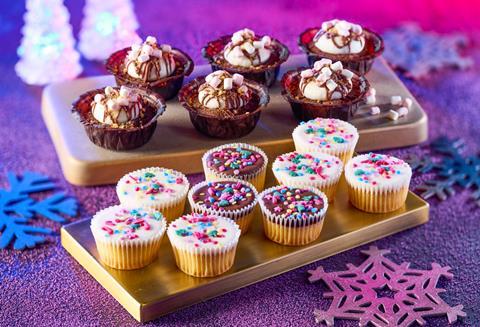 Mini cakes
S'mores Chocolate Brownies
The American campfire treat has been reimagined for the Co-op Christmas customer. Chocolate brownie cups are topped with a dollop of vanilla frosting, a sprinkling of mini marshmallows, a drizzle of Belgian chocolate, and a dusting of gold sugar shimmer.
Rsp: £2.65 for a four-pack
Christmas Candy Cakes
Simple and pleasurable sweet goodies to keep the festivities flowing – iced vanilla fairy cakes topped with festive sprinkles.
Rsp: £2.25 for a nine-pack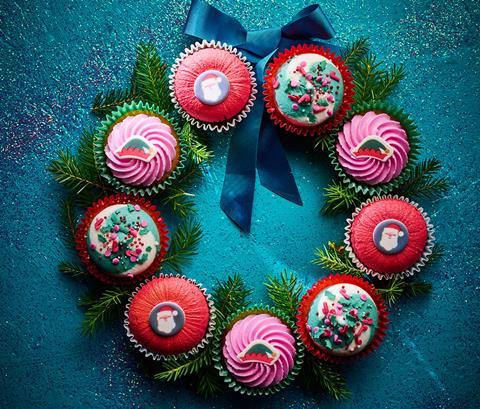 Merry & Bright Cupcakes
Premium priced but with alluring designs, these iced cupcakes are topped with sweet festive decorations.
Rsp: £5.50 for a nine-pack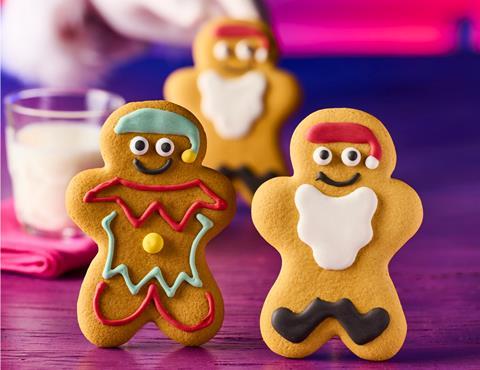 Santa Crumbs / Elf Crumbs
Bound to bring smiles to a festive celebration are these cute Santa and elf characters made from gingerbread and decorated with colourful fondant icing.
Rsp: 85p each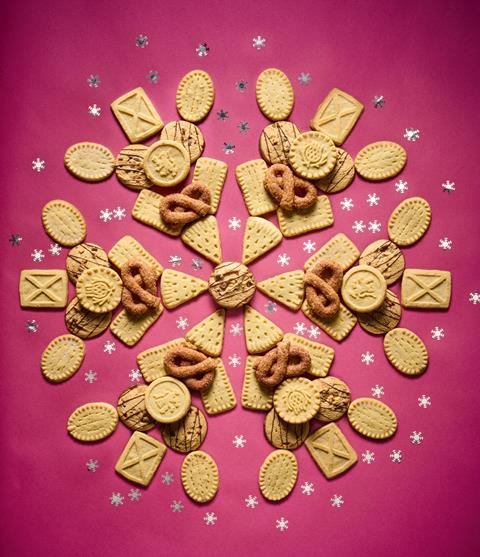 Biscuits
All-Butter Cinnamon Sugar Knots
There's a literal twist in the design of these sweet treats, which comprise sweet, melt-in-the-mouth all-butter biscuit coated in caramelised cinnamon sugar crunch.
Rsp: £1.75
All-Butter Shortbread Selection
Authentically baked in the highlands of Scotland, these traditional all-butter shortbread pieces are lightly dusted with sugar.
Rsp: £4
All-Butter Millionaires Biscuits
These Irresistible tier all-butter biscuits contain salted caramel flavoured pieces and Belgian milk chocolate chunks, have their bottom half coated in milk chocolate and top side drizzled with a dark chocolate.
Rsp: £2.25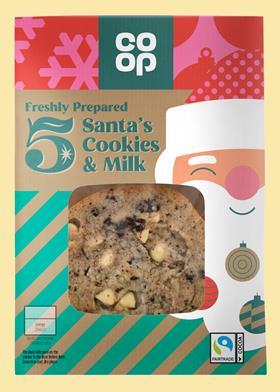 Santa's Cookies & Milk
The customary Christmas Eve offering for Santa has been incorporated as baked treats that feature white chocolate chips.
Rsp: £1.10 for a five-pack