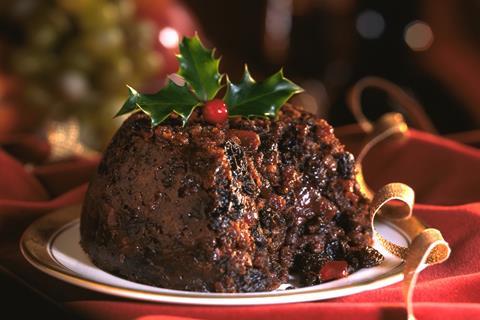 Christmas pudding sales have fallen by nearly 30% over the past five years, British Baker can reveal.
Exclusive data from analyst Kantar shows that UK shoppers spent £28.2m on the Christmas classics in the 12 weeks to 26 December 2021 – £11.2m less than the same period in 2017, representing a decline of 28.5%. The data, which covers the major supermarkets, discounters, and bargain stores, shows a slight increase in sales to £41.7m in 2018 but millions of pounds wiped off every year since.
Just over £5m was wiped off market value in 2021 alone with sales falling by 15.3% from 2020.
"This year has been the smallest year for Christmas puddings in the last five years," said Tesni Steele-Jones, consumer insight director at Kantar. "The real driving force behind the decline is the number of shoppers that are physically buying Christmas puddings which has dropped from over eight million to under 6.5 million."
Increased competition from other desserts, limited NPD and a rise in home baking are potential reasons behind the decline.
"Retailers bring out seasonal, limited edition festive chilled desserts so it's potentially people choosing different things for that occasion," Steele-Jones added.
On average, shoppers buy Christmas puddings just once during the festive period compared to minces pies which are snapped up an average of three times in the run up to the big day.
Mince pies
This paid off for mince pies which had their biggest Christmas for the last five years with consumers splashing out £104.3m on the treats in the 12 weeks to 26 December 2021. Value sales grew by 5.3% from the same period in 2020 and are up 1.7% since 2019.
Unlike Christmas puddings, the Kantar data shows mince pies benefiting from a hefty dose of NPD with around 10% of sales coming from new products in 2021.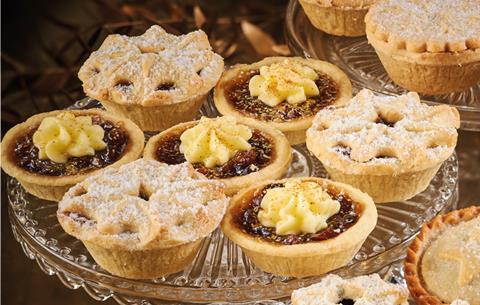 What's more, shoppers are spending more on them per trip as retailers push premium offerings.
"A really big driver of that growth is we're seeing shoppers buying more," explained Steele-Jones. "Shoppers who are already buying into the mince pies markets are buying more so spending more per trip and also buying a slightly more premium mince pie than they have in previous years."
Retailers embraced new flavour profiles and toppings for mince pies in 2021 with cherry Bakewell, gingerbread, caramel, speculoos, sticky toffee and boozy variants rolled out.
"The new products coming out are definitely quirkier and potentially could have a price premium charge, whether that's an Irish cream liqueur, brandy flavour, salted caramel or bourbon. Those are naturally more premium than a standard mincemeat mince pie," she added.