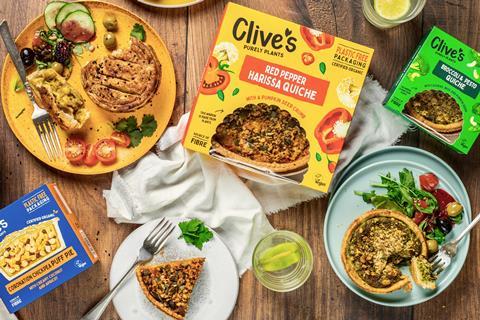 Clive's Pies has launched two new products and one rebranded product exclusively into Waitrose.
The brand's reworked Broccoli & Pesto Quiche features cashews, basil and pumpkin seeds (165g, £2.65). The new Red Pepper Harissa Quiche, meanwhile, has a pumpkin seed crumb (380g, £4.25), while the Coronation Chickpea Puff Pie (235g, £3.50) features creamy coconut and apricot.
All three products are vegan, certified organic and the packaging is plastic free, according to the manufacturer, with the Red Pepper Harissa Quiche and Broccoli & Pesto Quiche featuring a plant-based window instead of traditional plastic.
Clive's technical manager, Emma Chesbrough, said she was "really excited" when she discovered a see-through window made from plants. "It is also a natural and renewable material, certified as both home and industrial compostable and readily recycled alongside paper, so we have a window plus we are still respecting the planet wherever we can," she added.
All Clive's products are 100% plant-based, organic, and produced in Clive's new bakery in Dartmouth, Devon, the company said.
"Product development at Clive's is a unique experience," said Craig Blackborough, NPD manager at Clive's Pies. "Our new Red Pepper Harissa Quiche was created for sharing. We created the product based on trending flavour profiles to make it something you will want to share with your family, friends and co-workers. Love is part of every product ingredient list, and we've put a lot of love and care into creating our products."
Catherine Shacklock, partner & buyer for Waitrose's chilled vegan and vegetarian category, said she was delighted the retailer was the first supermarket to launch the products.
"Customer reviews on our current Clive's range shows great loyalty and we are really excited to share the next range of deliciously innovative development with them," she added.
Clive's was one of the companies featured in a recent British Baker analysis of challenger brands on the bakery market.