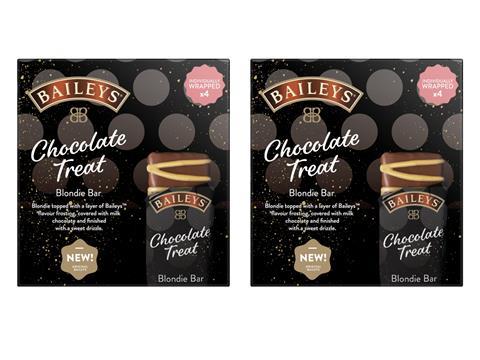 Finsbury Food Group has ventured into the snacking category with its range of Baileys licensed products with new blondie bars.
The Baileys Chocolate Treat Blondie Bars feature a blondie sponge filling topped with Baileys frosting all wrapped in a thick layer of milk chocolate. They're available in four-packs from Asda, Tesco and Co-op with an rsp of £1.50.
Finsbury said the alcohol-infused NPD brought 'an air of sophistication' to the snacking category.
It added that the sector continues to grow at speed, with 94% of UK consumers saying they are snackers, and 55% moving towards healthier meals to make way for indulgent treats.
"Snacking was a no-brainer for us, we're a nation of 'snackers' and the at-home snacking category has seen a rise due to lockdown," said Jack Cook-Broussine, brand manager at Finsbury Food Group.
"We're really excited to launch this to consumers, especially with the glowing track record of previous products in our growing Baileys range."
These products include a Baileys Marbled Cake, which was launched in September, as well as a Baileys Strawberries & Cream Cake.
Declan Hassett, senior licensing manager at Baileys owner Diageo, added: "Snacking products are something we've wanted to put our Baileys stamp on for a while, we've been working hard to stay ahead of the curve and to deliver that delicious, indulgent, signature Baileys experience for consumers to enjoy wherever they are."
The alcohol brand has also ventured into the biscuit category through a partnership with Bahlsen.