Brownies, gingerbread, and doughnuts are among the sweet treats to get a spooky makeover as bakery businesses look to take a bite out of Halloween 2021.
Here, we take a closer look at some of the products to hit the market: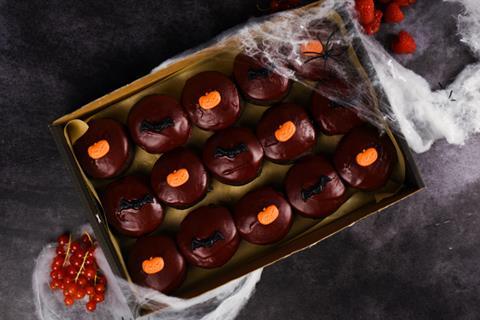 Trick or treat box, Crosstown
It's treats all round at Crosstown this Halloween. The doughnut specialist is rolling out limited edition dough bites crafted with its black cocoa sourdough and filled with raspberry jam, topped with a dark berry glaze and finished with a bat or pumpkin decoration.
Suitable for vegans, the bites come in boxes of 15 (£37.95) or a Trick or Treat box which includes 18 or 36 cookies (from £62.95). The treats can be pre-ordered for delivery between 28 to 31 October.
The dough bites will also be available in Crosstown stores and for on-demand delivery across London and Cambridge, individually (£2.70) as well as in boxes of three (£8) on the same dates.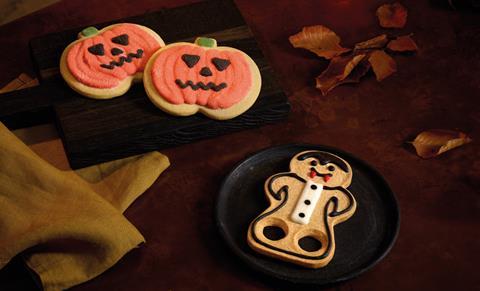 Mallow pumpkin shortcake, Costa
Following the release of its autumn menu, which included a Terry's Chocolate Orange Brownie, Costa has unveiled two treats for Halloween – the Mallow Pumpkin Shortcake and the Walking Vampire Gingerbread.
The former sees a shortcake biscuit base topped with mallow and an iced pumpkin face while the Walking Vampire Gingerbread, which is suitable for vegans, consists of a decorated gingerbread biscuit with iced vampire design. For a spot of interactive fun, there's space for littluns to put their fingers through the gingerbread to make the vampire 'walk'.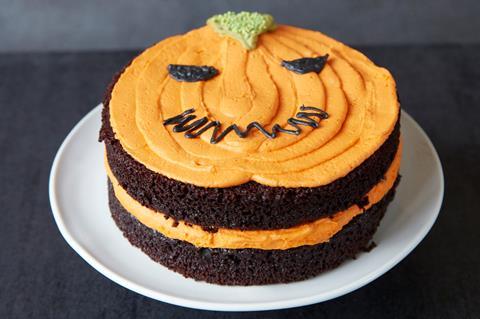 Pumpkin chocolate cake, Cutter & Squidge
The hero of this London-based bakery's Halloween range is the Jack-o-lantern chocolate cake (£32.20). The vegan-friendly cake features two layers of chocolate sponge sandwiched together with vanilla buttercream and salted caramel; it's topped with a jack-o-lantern design.
Also available is the Halloween Brownie Bites Box (£14.20) which is filled with 12 brownies with three different designs, including a millionaire shortbread brownie, white chocolate variant and spooky bones one which is topped with milk chocolate ganache, a chocolate crumb and edible bones decorations. The bakery is also zhushing up its signature biskies – a cookie/cake hybrid – for the season. The Mixed Biskie Box (£19.20) contains six biskies in three variants including the Blue Cookie Monster – a chocolate biskie with a blue sprinkle coating, filled with Oreo cookie crumb buttercream and dulce de leche centre.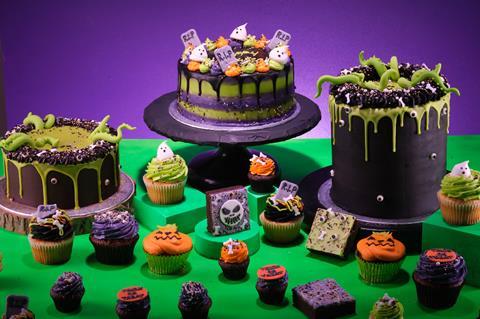 Boo brownie box, Lola's Cupcakes
There's bats, boos, and buttercream galore in the Lola's Cupcakes seasonal line-up.
The brownies in the Boo! Brownie Box (£16.99) are decorated with green, purple, and orange icing with skeletons, bones and 'trick or treat' sprinkles.
There's also Trick or Treat Cupcakes, with vegan-friendly versions available, topped with brightly coloured frosting and edible decorations including gravestones, bones and eyes.
It's also got spooky centrepieces covered with a selection of layer cakes including with 'Ghosts & Graves' and 'Made with Monsters' themes. The latter (£65 for a 7" cake) features black buttercream with a vibrant green drip, eye and bone decorations all topped with vibrant green tentacles. Inside are layers of sponge with orange and green buttercream.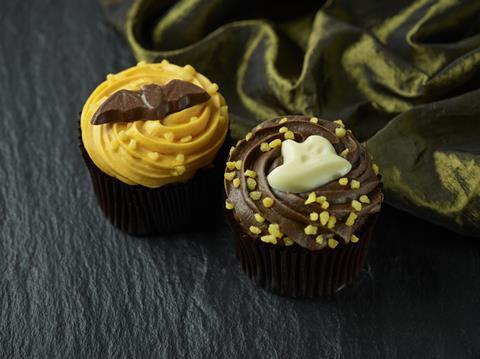 Halloween cupcakes, Country Choice
Country Choice is serving up a spooky selection including bat and ghost-topped cupcakes. Both are made of chocolate cake topped with a swirl of frosting and a chocolate decoration (rsp: £1.49).
Also on offer is the Halloween Mallow Ghost (rsp: £1.09) which comprises a marshmallow with sugar decoration on a sweet biscuit base and the Halloween Doughnut Sprinkle (rsp: £.30). The latter is a thaw and serve product which is filled with orange and blackcurrant and topped with cocoa flakes.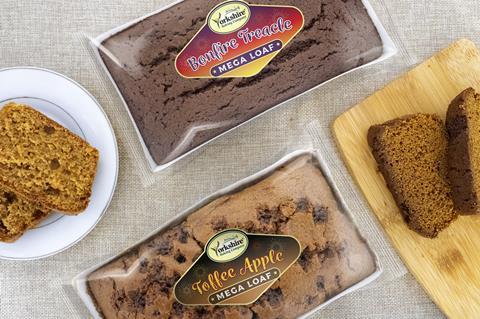 Toffee apple cake, Yorkshire Baking Company
Embracing autumnal flavours is the Yorkshire Baking Company with two limited edition additions to its Mega Loaf range.
The Toffee Apple Mega Loaf features fudge and apple pieces while the Bonfire Treacle variant is flavoured with treacle. Both have an rsp of £2 per loaf and are available in selected Morrisons stores now and Co-op and Asda stores from mid-October.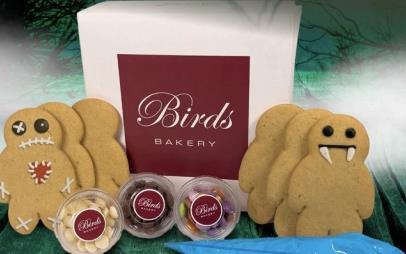 Decorate a monster box, Birds Bakery
Family-owned craft bakery Birds is offering little monsters the chance to get creative this Halloween with its Decorate A Monster Box (£15). The product includes six gingerbread people, a bag of green or red icing as well as chocolate beans and milk and white chocolate drops.
The bakery is also embracing the popularity of its chocolate lines with orange coloured chocolate jack-o-lanterns (£7.50 for three large and three small) and the Witches Brew (£8) which comprises two milk chocolate ghosts, mini marshmallows, milk chocolate drops and white chocolate drops.