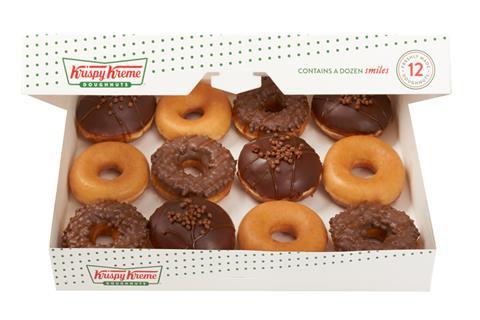 Krispy Kreme has teamed up with Nestlé to roll out limited-edition Toffee Crisp doughnuts.
The new variants, which are available until 10 October, are:
Toffee Krispy – a ring doughnut topped with crispy cereal and soft caramel covered in a chocolate coating, drizzled with sticky toffee sauce. Rsp: £2.35
Sticky Toffee – a ball doughnut with a toffee filling, chocolate icing and chewy toffee pieces as well as a drizzle of caramel icing. Rsp: £2.35
The doughnuts are also available as part of the Toffee Dozen, alongside the Original Glazed doughnuts. These are available via nationwide delivery for £14.95 plus a delivery fee. A Toffee Three Pack is also available exclusively at selected Sainsbury's and Morrisons stores.
"We're so excited to announce this perfect partnership with Nestlé Toffee Crisp to create the delicious new Toffee Krispy doughnut," said Louise Direito, Krispy Kreme UK and Ireland's director of innovation. "Toffee Crisp is a nostalgic chocolate bar for most of us in the UK and its taste is loved throughout the nation."
The business entered the UK market in 2003 and currently operates 118 stores and has more than 1,200 cabinets with retail partners across the country.
Other NPD from Krispy Kreme this year includes Cookie Dough and Cookies & Kreme doughnuts, as well as a DIY creation kit for consumers to decorate the treats at home.