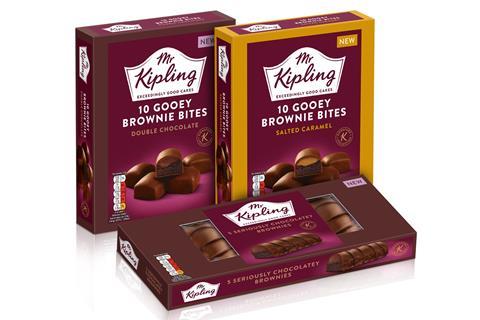 Orange and chocolatey brownie bites, low sugar birthday cake and fruity puds are among the sweet bakery products to be unveiled this autumn.
Here are some of the latest launches from the likes of Finsbury Food Group, Premier Foods, Fitbakes and Charlie Bigham: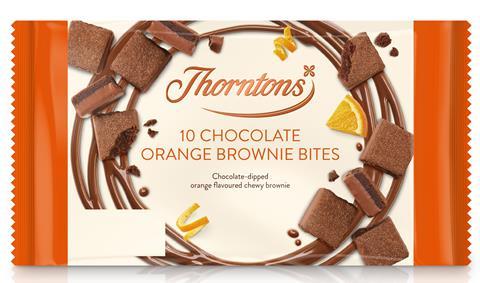 Thorntons Orange Brownie Bites, Finsbury Food Group
Finsbury Food Group has strengthened its longstanding partnership with chocolatier Thorntons with the launch of Orange Brownie Bites.
Crafted with an orange-flavoured chocolate brownie dipped in milk chocolate, the NPD adds to a range that already includes Chocolate Orange Caramel Shortcake, Toffee Apple Caramel Shortcake, Hot Cross Bun Caramel Shortcake, Peppermint Crème Brownie and Strawberry Dream Brownie. Finsbury is also introducing the seasonal Toffee Apple Bites and Chocolate Orange Bites additions.
"For two decades, Finsbury Food Group has manufactured Thorntons cake bites and seen first-hand just how popular the range has become," said Donna O'Neill, brand manager at Finsbury Food Group. "This success, however, has been built on our dedication to bring to market new flavours that fit with new market trends and consumer demands.
"This is exactly why we believe that the Orange Brownies Bites will be the perfect addition to the range, and further help Thorntons Bites maintain its dominant market position among impulse purchases," O'Neill added.
Thorntons Orange Brownie Bites are sold in packs of 10 (rsp £1.60) and are available in store and online at Co-op, Nisa, Spar and Sainsbury's.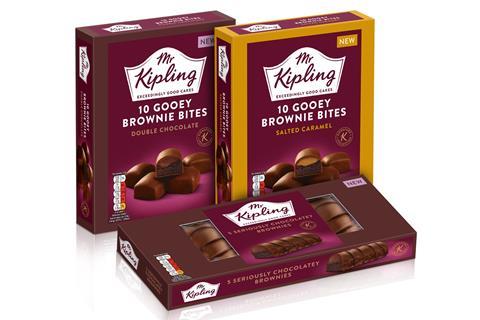 Mr Kipling Brownies, Premier Foods
Premier Foods is expanding its Mr Kipling range with new Signature Collection Seriously Chocolatey Brownies and Signature Collection Gooey Brownie Bites.
The latest launches mark a first for Mr Kipling, with the Gooey Brownie Bites being the brand's first 'bite-sized' treat under the Signature Collection range, and Seriously Chocolatey Brownies becoming the brand's first ever premium brownie.
Available in two flavours, Double Chocolate and Salted Caramel, Gooey Brownie Bites are available in packs of 10 (rsp £2.65) and made with a rich and chocolatey brownie base, topped with a layer of gooey chocolate or salted caramel sauce, then finally coated in thick milk chocolate.
The Seriously Chocolatey Brownies, sold in packs of five (rsp £2.65), are covered with a thick layer of smooth chocolate creme, coated in thick milk chocolate and a dark chocolate drizzle.
"We are excited to be expanding this popular range with brownies – and our first ever Signature Collection bite-sized treat – that will meet growing demand for evening indulgence and increase penetration with younger consumers," said Mathew Bird, brand director for sweet treats at Premier Foods.
Birthday Cake, Fitbakes
Low sugar cake brand Fitbakes is set to launch a new birthday cake flavour in October to celebrate securing seven new listings at four different retailers ahead of government HFSS regulations.
The brand, which was founded by nutritionist Ella Rauen-Prestes on her kitchen table in the Cotswolds in 2018, has three new listings in Waitrose, one new listing in Tesco, as well as listings in Co-op Midcounties, Holland & Barrett and Selfridges.
The new birthday cake flavour cakes will be topped with a layer of low sugar raspberry jam, a layer of low sugar white chocolate and covered in sprinkles made of natural ingredients, according to the manufacturer, which claims its cakes have 95% less sugar, 40% less calories and 200% more protein than 'leading cake brands'.
"Over the last few months, we found that several supermarkets were keen to list our products, recognising that Fitbakes ticks the box when it comes to providing indulgent healthier alternatives to consumers," Ella Rauen-Prestes said.
"While many big brands perhaps aren't ready for the new HFSS regulations, we're proud that Fitbakes has filled the gap in the market for cakes and bars that are indulgent and delicious - but naturally low in sugar and high in protein," the founder added.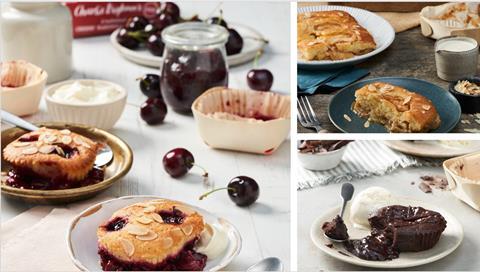 Proper Puds, Charlie Bigham
Charlie Bigham has released a trio of Proper Puds, aimed at consumers looking for an easy route to indulgence on a cosy evening in.
The sharing size Bramley Apple Pudding (rsp £5) features apple slices infused in a cinnamon & apple compote and is topped with almond and Madagascan vanilla frangipane with a scattering of flaked almonds.
The individually portioned Molten Chocolate pud (pack of two, rsp £3.95) features a gooey melt-in-the middle centre, while the Cherry Bakewell pud (pack of two, rsp £3.95) is made with a sweet cherry compote topped with almond and Madagascan vanilla frangipane, sprinkled with flaked almonds.
All three products are available to buy from Waitrose and Ocado, and all the products in Charlie Bigham's Proper Puds range use all-natural ingredients, according to the manufacturer.