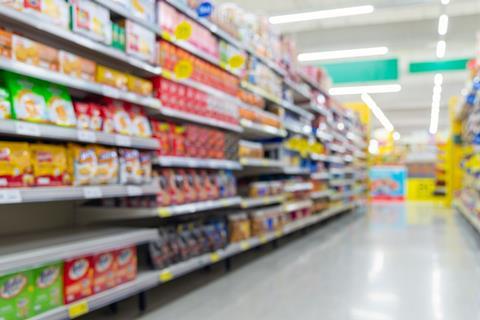 The government has postponed the enforcement of rules banning multibuy deals on foods high in fat, salt or sugar (HFSS) until October 2023.
The measure of restricting retail volume promotions for HFSS items, including 'buy one get one free' and 'three for two' deals, was due to come into force from 1 October 2022.
The introduction of a 9pm watershed for TV and paid-for online adverts for HFSS foods – originally planned for implementation from 1 January 2023 – has also been postponed by 12 months.
However, restrictions on the store placement of less healthy products will still come into force in October 2022 as planned. These will mean less healthy products are no longer promoted in key locations, such as checkouts, store entrances, aisle ends and their online equivalents.
The government said the delay to the multibuy deals ban would allow it to review and monitor the impact of the restrictions on the cost of living in light of 'an unprecedented global economic situation'. The pausing of the advertising watershed was due to a delay to the Health and Care Bill receiving royal assent, as well as a 'growing recognition' that the industry needs more time to prepare, it added. A consultation on TV and paid-for online adverts will be launched in the coming weeks.
"We're committed to doing everything we can to help people live healthier lives," said public health minister Maggie Throup. "Pausing restrictions on deals like buy one get one free will allow us to understand its impact on consumers in light of an unprecedented global economic situation."
Kate Halliwell, chief scientific officer at the Food and Drink Federation, welcomed the postponements. "At a time when both families and our manufacturers are struggling with high inflation, it makes sense to delay the restrictions on volume promotions for everyday food and drink products, including breakfast cereals, ready meals and yoghurts, as it risked further stretching already pressed household budgets," she said.
"We also welcome the delay to the start of advertising restrictions, given the time it will take our industry to prepare for the change in law," she added.
Phil Smith, director general of advertising trade body ISBA also gave his support to the pausing of the HFSS advertising watershed. "At a time of low growth, it makes little to no sense to pile costs on advertising – an industry which is a key driver of Britain's economic success," he said. "With the UK in the grip of a cost of living crisis and with the spectre of rising inflation, we need a total focus on supporting our food manufacturing and broadcast industries to grow and invest."
However, campaign organisation Action on Sugar said the move contradicted the government's levelling up ambitions and would impact the NHS and the nation's health.
"Boris Johnson could have left a legacy of being the first prime minister to address obesity in a meaningful way, particularly in restricting advertising and promotion of unhealthy food which were his flagship policies," said Graham MacGregor, professor of cardiovascular medicine at Queen Mary University of London and chairman of Action on Sugar. "Instead, he has given in to his own MPs, and an aggressive food industry, who – ironically - were starting to comply with these new policies."