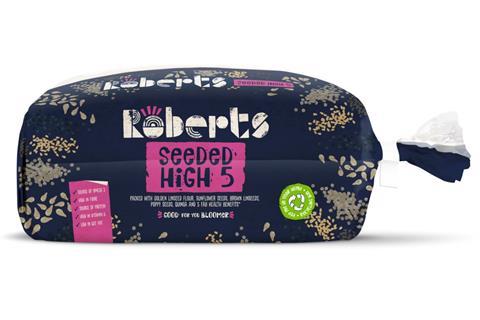 Roberts Bakery has become the latest industry player to tap into the trend for healthier bread with a seeded bloomer.
Containing 92 calories per slice, the 600g wholemeal Seeded High 5 Good For You Bloomer is made with golden linseed flour, brown linseeds, quinoa, sunflower seeds and poppy seeds.
Described by the brand an "excellent source of protein, high fibre and Vitamin D content and low saturated fat – as well as Omega 3 fatty acids", the bread is said to have a "tender, chewy and light" taste.
The bloomer, which is being sold for £1.55, is available from selected Co-op, Budgens, One Stop, McColls, Nisa, Londis, Booths, Bargain Booze and Spar stores. It is wrapped in sustainably sourced packaging that contains 53% less plastic than standard bread bags and can be recycled in kerbside collections, according to Roberts Bakery.
The launch follows the roll out of four loaves by Roberts last year which all had a focus on vitamins, minerals and other nutritious ingredients.
The 130-year-old business isn't the only one looking at healthier bread NPD. Earlier this year, Kingsmill added two new seeded loaves to its line-up: a 50/50 Multi-Seed baked with sunflower, pumpkin and linseeds and a 50/50 No Bits Multi-Seed made with milled sunflower, oats and linseed.
And, Oxfordshire-based Modern Baker debuted Superloaf which it claimed to be the 'healthiest loaf ever made'. The seeded sourdough, which took five years to develop and is aimed at supporting immune health, contains ingredients including barley flour, sunflower seeds, tapioca flour, hemp and seaweed. Benefits of the bread include slower glucose absorption, reduced-calorie load and optimised gut microbiome activity, the brand said.