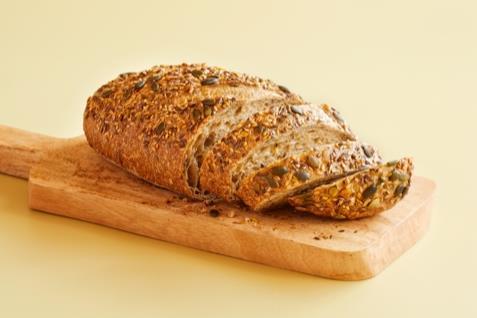 Fast food chain Leon has added a new sourdough loaf to its retail range in Sainsbury's.
The brown seeded sourdough comprises golden and dark linseeds, as well as pumpkin seeds and is available with an rsp of £2.85.
It joins the rest of the brand's bakery line-up, which was launched as part of a wider retail range in October 2019, in Sainsbury's in-store bakeries. The loaves, including a superwhite sourdough and quinoa sourdough, have now been rolled out to a further 62 stores, expanding their reach from 32 sites to 94.
Like the rest of Leon's sourdough loaves, the brown seeded variant is made using a 15-year-old starter and is fermented for 20 hours. It also contains 7% courgette which baked into the dough to keep the loaf moist, said Leon, while the addition of rye and malt flour creates a 'sweet, nutty loaf with a mild tangy taste'.
"We're excited to be rolling out across an extra 62 in-store bakeries within Sainsbury's stores. It's been our mission to make food that tastes and does good, more widely available and this expansion will allow even more customers to access Leon's delicious bakery products," said Charlotte Di Cello, chief commercial officer and MD of Leon Grocery.
Known for its 'naturally fast food', Leon is a British restaurant chain serving seasonal, Mediterranean-inspired and free-from food.
In April, the brand transformed 12 of its restaurants into mini-supermarkets to alleviate the strain on supermarkets during the Covid-19 crisis.