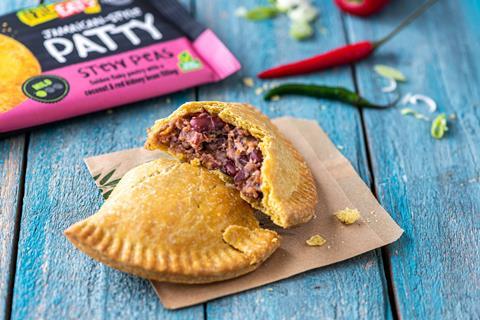 Picnic season is upon us, and the nation's savoury pastry players are looking to capitalise with NPD and new formats to tempt consumers.
From the unveiling of meatball marinara bakes and Jamaican patties to price-marked packs of family favourites, there's lots going on in the market.
Here, British Baker rounds-up the latest wave of activity: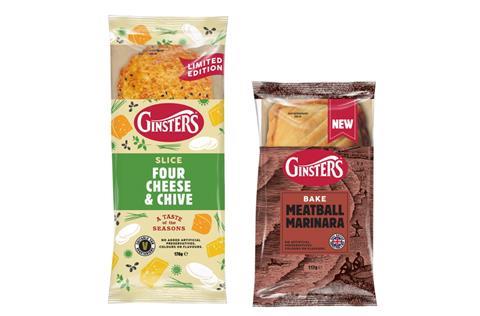 Ginsters
Ginsters is looking to add 'excitement and flavour' to the savoury pastry category with two new products – a limited-edition Four Cheese & Chive Slice and Meatball Marinara Bake.
The Four Cheese & Chive Slice (rsp £1.60) blends West Country Cheddar, British mozzarella, Red Leicester and full-fat soft cheese with onion, potato, chives and Dijon mustard all wrapped in puff pastry and topped with a mature Cheddar and black onion seed crumb. It's the latest in a series of seasonal NPD by the brand which includes the Festive Chicken & Stuffing Slice and Vegan Creamy Garlic Mushroom Slice which added £107k of incremental sales to the brand [Kantar WorldPanel].
The Meatball Marinara, meanwhile, combines 100% British pork and beef meatballs with melted mozzarella in a tomato-based sauce with roast garlic, red peppers, SunBlush Tomatade, chopped tomatoes and onion all wrapped in puff pastry seasoned with rosemary, oregano, smoked salt, paprika and black pepper.
Ginsters managing director Sam Mitchell said the products had been developed in response to the brand's "extensive consumer research". "We understand that more than ever, people are demanding more choice, excitement and convenience. Whether that's for a quick and easy family lunchtime, or a convenient snack on the go," he said.
"Our latest launches offer interesting new flavour combinations, creating more choice in this impulse category. We want to help shoppers navigate the fixture and feel excited about trying new savoury pastry products."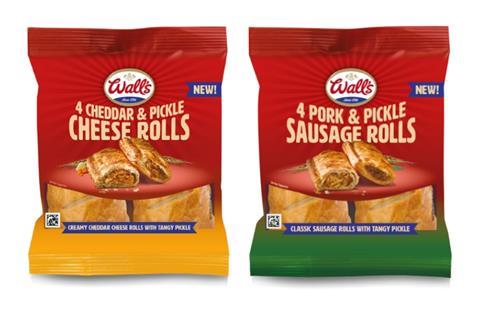 Wall's Pastry
Wall's Pastry is hoping to tempt consumers by adding tangy pickle to its sausage and vegetarian rolls.
The brand has rolled out Pork & Pickle Sausage Rolls as well as Cheddar & Pickle Cheese Rolls, both of which are sold in packs of four and cost £1.75.
"Pork, cheese and pickle have long been flavours that pair beautifully together, so we're excited to be bringing this to consumers with our two new products," said Jason Manley, head of marketing for Wall's Pastry.
The new rolls are also the first to feature Wall's Pastry rejuvenated look which features 'bolder colours and enticing food shots to improve appetite appeal and food values', the brand said. A new 'The UK's Favourite' flash will also appear on the packaging.
"The new look for the packaging brings a rejuvenated warmth to the brand, with appetising imagery and an epic stand-out font helping consumers to find their favourite products easily," Manley added.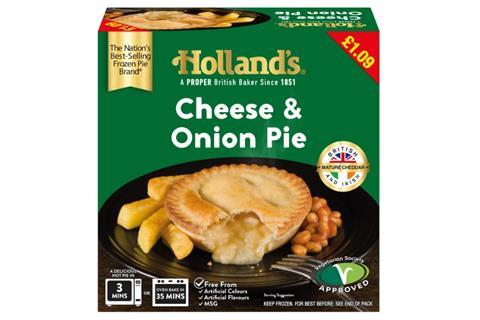 Holland's Pies
Lancashire baker Holland's Pies is rolling out a variety of its bestselling products in single price-marked packs (PMPs) for the convenience market.
Available in the frozen aisle from 13 June, the packs will be offered in flavours including Potato & Meat, Steak & Kidney and Cheese & Onion. Peppered Steak, which the firm launched last September and is on its way to becoming one of the brand's top selling pies, will also be available in this format.
The packaging is made from cardboard and described as 'space-saving' to allow for easy merchandising which helps to fit more products on shelf, Holland's said.
"Cash and carries and independent retailers are hugely important to us, and we're excited to be expanding our range for them with these brand-new and convenient price-marked packs from June," said Leanne Holcroft, brand manager for Holland's Pies.
"We're continuously looking at ways that our fans can best experience our mouth-watering pies and these single boxes are ideal for those looking for a quick snack or a cosy night in."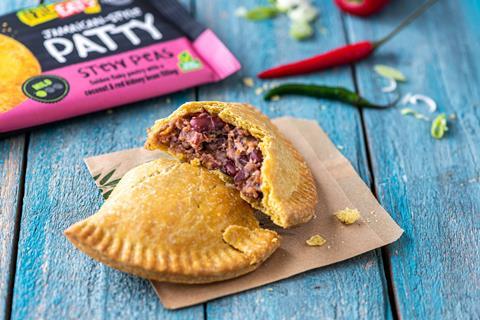 Funnybones Foodservice
Funnybones Foodservice is targeting the convenience market with individually wrapped and frozen Jamaican Patties as part of its Irie Eats brand.
The patties, which can be sold as they are or cooked and placed in a hot cabinet, come in three variants:
Beef Patty – made with fine ground beef and diced onions slow cooked in a seasoned sauce
Jerk Chicken Patty – chicken is marinated in authentic jerk paste with a punch of heat
Stew Peas Patty – a vegan option packed with kidney beans that have been braised in a coconut sauce made to a traditional stew peas recipe and infused with a mild blend of spices
"These patties are one of our most popular products, so we are now introducing new formats so that they can be sold in more outlets in the UK," said Marja Lawrence, commercial manager at Funnybones Foodservice – the foodservice arm of Grace Foods. "Traditionally, In Jamaica you'd get your patties at most bakeries and gas station convenience shops as well as specialist patty shops. And now, we are making it possible for you to buy them, right here in the UK."