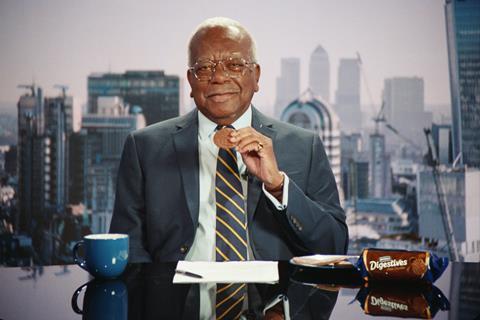 Sir Trevor McDonald is tha latest celebrity to appear in a bakery brand's TV advert, as he takes a star turn for McVitie's.
The broadcasting legend features in the latest above-the-line marketing campaign from the Pladis-owned biscuit brand, entitled 'There Is Only One'.
It comes as the brand unveils new products under its BN and Digestives range (see more on this below).
McVitie's said it was aiming to build on the success of its £7.8m 'True Originals' campaign, which debuted earlier this year and included an ad starring Martine McCutcheon rallying the nation to bring back the traditional British tea and biscuit break.
The new ad is said to reaffirm the brand's status as the self-described 'original and enduring' leader of the biscuit category through a fun, tongue-in-cheek creative. It features other cultural icons that McVitie's claims are like itself in that they are "often imitated, but never equalled".
The 'There Is Only One' ad is being broadcast across TV, cinema, video on demand, and online until 11 November, with support from activity across social and shopper marketing. But you can check it out here now:
Pladis UK&I chief marketing officer Aslı Özen Turhan said McVitie's was "firmly embedded in the nation's routine and store cupboards" as it had been making and baking biscuits for over 180 years.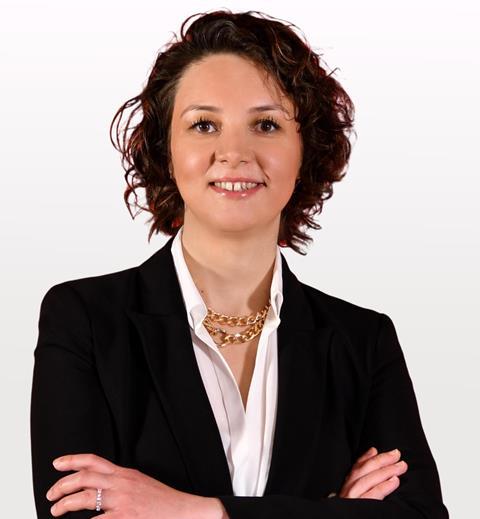 "For many, our biscuits evoke fond memories – from cherished moments of togetherness, to time spent alone, relaxing and recharging," commented Turhan. "But beyond that, there's a reason why we're not only the category's original, but the nation's favourite, too.
"With our creative campaign, 'There Is Only One', we're reminding shoppers of the great taste, top quality and good value intrinsic to McVitie's," she added.
Turhan claimed that the advert had achieved their best ever brand equity score and high levels of emotional engagement, with the 'only one' message coming through strongly thanks to the creative's humour and storytelling.
Bakery supplier Warburtons also looked to combine a household name with funny scriptwriting in its recent advert starring Samuel L Jackson.
Pladis is further leveraging its True Originals platform with an on-pack promotion championing its longstanding partnership with mental health charity, Mind. Tesco shoppers are being given the chance to 'Buy a pack. Gift a free pack' across eight of the bestselling McVitie's products including Chocolate Digestives, Chocolate Hobnobs and 'The Light Ones' ranges.

Sweet new treats
In the meantime, McVitie's has introduced two new products to its portfolio of sweet bakery products.
McVitie's BN Popping Candy Cake Bars are available in two 'timeless flavours' of Crackling Chocolate and Sizzling Strawberry, and come in packs of five individually wrapped bars priced at £1.25.
Offering popping candy pieces inside velvety chocolate or soft strawberry sponge, topped with smooth chocolate cream or traditional light cream respectively, the cake bars have been rolled out at Asda, as well as convenience stores and wholesale channels.
The launch follows McVitie's BN's successful expansion into cakes back in January with its Mini Rolls, which are said to have generated £900,000 in sales to date, replicating the strong performance of the brand's children's biscuits, which have topped £4.3m already this year.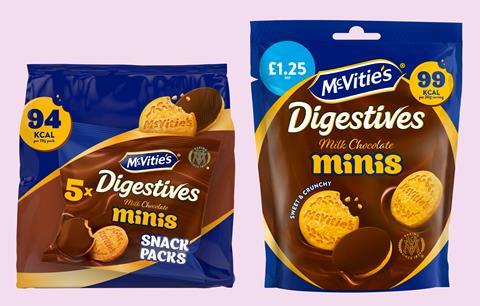 Back on the biscuit side, McVitie's Digestives Milk Chocolate Minis have been unveiled. These bite-sized versions are intended to extend the biscuit's appeal into a host of new occasions including on-the-go, lunchtime and sharing moments.
A Minis multipack containing five lunchbox-ready 19g bags, priced at £1.25, has started rolling out in Tesco stores. Meanwhile, a sharing pouch 80g version (rsp: £1.25) will be following later this autumn. Both formats – as well as a price-marked pack – will be available to convenience stores and wholesalers.
McVitie's Milk Chocolate Digestives is said to be currently worth £108.8m in retail, experiencing growth of 23.1% according to Nielsen Moving Annual Total data to 22 July 2023. The brand also launched a white chocolate version back in July.