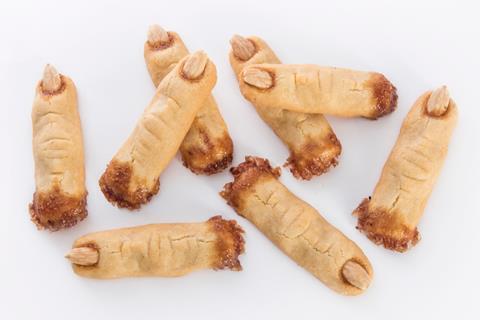 Readers beware, you're in for a scare. A hunger-inducing one at least as another batch of bakery businesses unveil their ghoulish treats ahead of 31 October.
Here, we peek at some of the creepy creations to be offered up: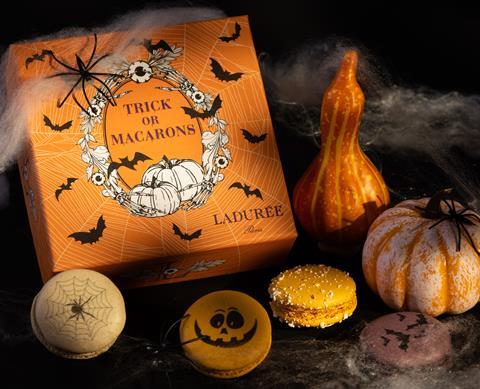 Trick or macarons, Ladurée
For those seeking their spooks with a touch of French refinement, Ladurée has created glow-in-the dark gift boxes of four popcorn-flavoured and four vanilla macarons, complete with Jack-o-lantern faces on (rsp £25). The popcorn theme continues with a Popcorn Tart which features a popcorn & polenta almond cream, miso caramel and popcorn praline finished with a popcorn whipped ganache and decorated with chocolate bats.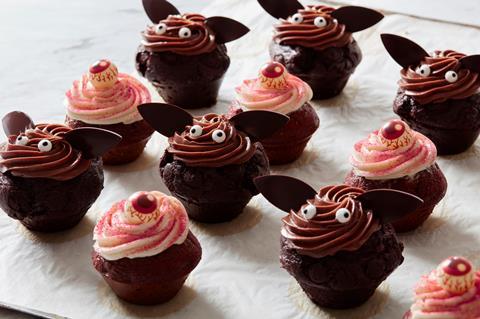 Eye see you muffin, Ole & Steen
Seeing is believing at Danish bakery Ole & Steen which has whipped up Eye See You Muffins for Halloween 2021. The treats consist of a carrot cake muffin with cream cheese frosting and chocolate eye on top.
In addition, Ole & Steen's Halloween favourites Boo the Bat and Spooky Marshmallow Whip are also back in stores from 19 October. Boo (£3.20) is a chocolate muffin with chocolate frosting and chocolate eyes and ears, while Spooky (£3.80) is a marshmallow whip on a marzipan base decorated with white and dark chocolate.

Monster fingers, Gail's
Gail's has got all bases covered this Halloween – from cute skeletons to the gory looking 'monster fingers'. The skeletons are lightly spiced speculoos biscuits while the severed fingers are described as 'soft and chewy' almond macaroons with a whole blanched almond for a fingernail and raspberry jam for added gore. Both cost £1.70 apiece.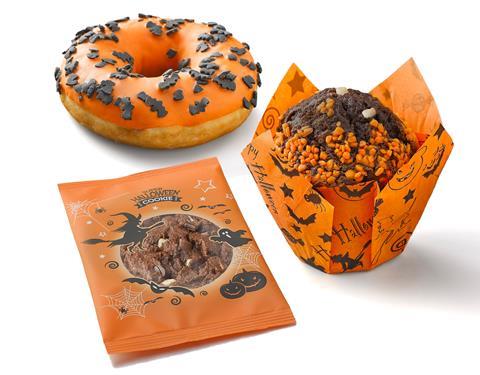 Blood orange and chocolate muffin, Dawn Foods
Dawn Foods has unveiled three 'terror-rific' new products for Halloween 2021, all of which can be defrosted and served. The NPD comprises:
A Duo-filled Blackcurrant & Orange Donut
An Orange, White Chocolate & Cranberry Cookie with blood orange and vanilla flavour base
A Blood Orange & Chocolate Muffin with blood orange flavour and colour base and inclusions.
All are served in Halloween themed packaging for maximum seasonal spookiness. In addition, Dawn Foods is offering a free Halloween toolkit with any five products purchased from Dawn's 12.5kg bags of Plain or Chocolate Crème Cake Base, Extra Moist Muffin Base (Plain or Chocolate) or 6kg pails of Dawn Vanilla, Chocolate or Orange Frosting. Each toolkit contains Dobla branded 'Mummy' white chocolate decorations and point of sale material.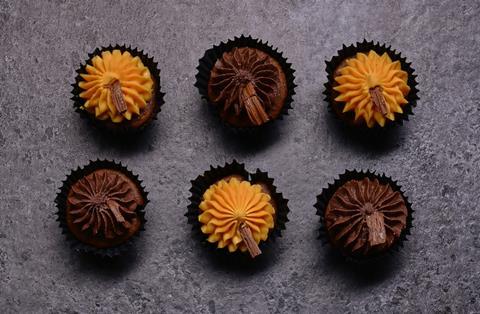 Trick or treat cupcakes, Fatherson Bakery
Opting for treats over tricks, Fatherson Bakery is serving up a selection of cupcakes and a loaf cake.
The Trick or Treat cupcakes, available in nine and 12-packs, are hand decorated and available with chocolate, orange, and vanilla buttercream swirls. There's also a pack of six Halloween Fairy Cakes (rsp £3) in the range, half of which are topped with orange buttercream and the other half chocolate icing, all decorated with a sugar wafer Halloween character. Rounding off the seasonal treats is a Toffee Apple Loaf (rsp £5.50) which features a toffee flavoured sponge with apple pieces.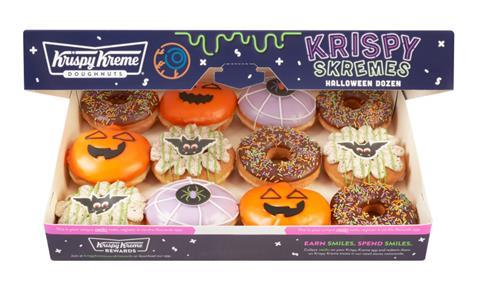 Jack-o-lantern doughnut, Krispy Kreme
Scaring is caring at Krispy Kreme which has rolled out a new range of doughnuts for the occasion. The range comprises:
Jack O Lantern Doughnut filled with a chocolate orange kreme, £2.35
Vampire Bat Doughnut with cookie kreme frosting and topped with a vampire bat, £2.10
Kreepy Cobweb Doughnut with a raspberry filling, £2.35
Spooky Sprinkles Ring Doughnut covered in chocolate icing and spooky sprinkles, £1.95
Creepy Creations Kit, £14.95
The latter is the latest addition to Krispy Kreme's doughnut decorating kits which include two pumpkin shaped doughnuts and two classic glazed ring ones with a selection of glazes and toppings.
The complete range is available between the 11 and 31 October to buy in-store, at any Krispy Kreme cabinet, added to a Choose Your Own dozen for Click & Collect, or via delivery partners including Deliveroo, Uber Eats and Just Eat.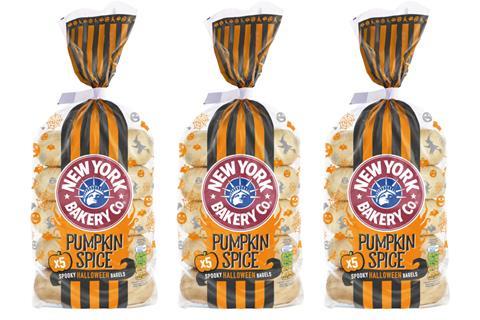 Pumpkin spice bagel, New York Bakery Co
New York Bakery Co is once again embracing the flavour of the season by bringing back its limited-edition Pumpkin Spice Bagels. The boiled and baked bagels are infused with classic pumpkin spice flavours of cinnamon, nutmeg, ginger, and cloves. They're available exclusively in Asda from 14 October with an rsp of £1.