Desserts for chocoholics, booze-flavoured treats and Hollywood-inspired doughnuts are among the bakery products unleashed on the foodservice and retail markets in time for summer 2022.
Here's a round-up of some of the latest sweet NPD launched by the likes of Country Range, Central Foods, Finsbury Food Group and Krispy Kreme: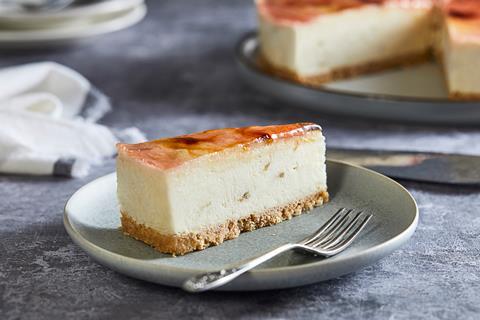 Country Range
Country Range has added to its foodservice portfolio of sweet treats with the rollout of five new desserts.
All the new products come in fully recyclable packaging, which according to Country Range is made from a minimum of 60% recycled materials and contains no black packaging materials. The five 'caterer-inspired' products come frozen and are as follows:
Baked Salted Chocolate Torte – aimed at chocoholics, dusted with cocoa and can be served either cold or warmed through
Lemon Panna Cotta Tart – a buttery shortcrust pastry case with lemon panna cotta filling, finished with a light sugar dusting
Luscious Lemon Cheesecake (Gluten-Free) – a sweet digestive biscuit crumb base underneath a citrussy lemon cheesecake topping, finished with a marbled lemon mirror glaze
Rhubarb & Strawberry Cheesecake (Gluten-Free) – light rhubarb cheesecake topping on a bed of digestive crumb, finished with a strawberry mirror glaze
Cappuccino Cheesecake – mocha biscuit base beneath coffee and milky cheesecake topping, baked and topped with a cream cheese frosting and dusted with cocoa powder to finish.
"We're always looking for ways to improve our offering and to make it easier for caterers to serve quality products that their customers will love," said Kate Bancroft, marketing manager for Country Range. "These latest products are exactly that and come frozen and pre-portioned so there's absolutely minimal fuss or wastage.
"We expect them to be a big hit as afternoon tea settings continue to gain in popularity and due to the strong growth of sweet treats out of home following the resurgence in home baking during lockdown," Bancroft added.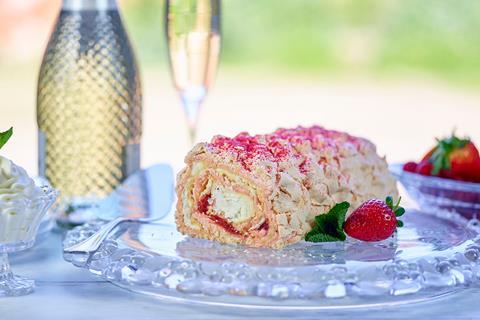 Central Foods
Frozen food distributor Central Foods has unveiled a Strawberry and Prosecco Meringue Roulade to add to its Menuserve foodservice range.
Targeted at summer celebration, the hand-rolled roulade features pink strawberry-flavoured meringue filled with dairy cream flavoured with real Prosecco, along with a home-made strawberry compôte. Finished with a dusting of dried raspberry pieces, the 'thaw and serve' dessert is marketed as being suitable for vegetarians and gluten-free customers.
The new launch joins a number of other flavours in the Central Foods' range, including Black Forest, Banoffee, Cappuccino, Raspberry & Hazelnut, Raspberry & White Chocolate, and Lemon.
"Our range of Menuserve meringue roulades is very popular with our foodservice customers and I am excited that we are launching a traditional British flavour combination with our new Strawberry and Prosecco Roulade," said Gordon Lauder, managing director of Central Foods. "The launch has come just in time for foodservice operators to add the new roulade to summer menus to take advantage of the Queen's platinum jubilee celebrations and other special events over the summer months, such as Wimbledon and the Henley Regatta."
Finsbury Food Group
Finsbury Food Group has added Gordon's gin-inspired cupcakes to its growing portfolio with the Diageo-owned drinks brand.
Available online and in-store at Tesco, Divine Duo Cupcakes are topped with gin-flavour frosting and finished with edible decorations. Each pack (RRP £4) contains three pink vanilla flavour sponges topped with gin flavour frosting and dried raspberry pieces, and three vanilla sponges topped with gin flavour frosting and lemon sugar sprinkles.
"After seeing consumers flock to purchase the Gordon's Premium Pink Cake last summer, we knew that there was further appetite to combine Diageo's much-loved portfolio of drink brands with our expertise and bring to market innovative products in new formats," said Emma Hamilton, brand manager at Finsbury Food Group.
"By launching the Divine Duo Cupcakes, we are confident that we can replicate the success of our previous collaboration. Not just appealing to gin lovers, each cupcake comprises delicious flavour combinations to make this treat suitable for all to enjoy," Hamilton added.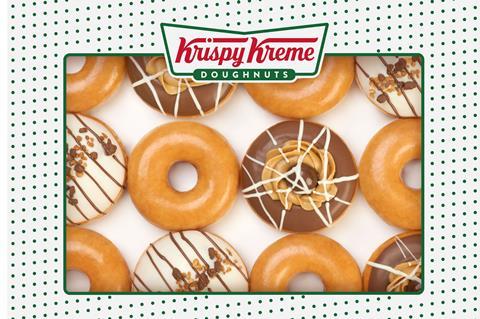 Krispy Kreme
Krispy Kreme's Hollywood-inspired Movie Nights range will be making a special appearance in the doughnut giant's retail shops, selected supermarkets, and online until June.
Using a combination of sweet and salty chocolatey flavours, the limited-edition releases are aimed at doughnut lovers looking to share and indulge in front of the screen.
The range comprises the following two varieties:
Salted Caramel Pretzel (£2.45) – filled with salted caramel, dipped in white chocolate-flavour coating and topped with caramelised hazelnuts and salted chocolate coated pretzels
Choco Popcorn (£2.45) – filled with popcorn cream, dipped in chocolatey icing with a swirl of salted caramel frosting and topped with chocolate-coated popcorn.
Krispy Kreme has used the new doughnuts to put together its Movie Nights Trilogy three-pack, featuring one salted Caramel Pretzel, one Choco Popcorn and one Original Glazed doughnut (available in cabinets in selected supermarkets), as well the Movie Nights Dozen, which includes three salted Caramel Pretzel, three Choco Popcorn and six Original Glazed doughnuts (available via nationwide delivery).