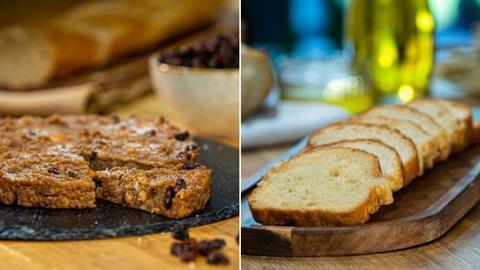 Tesco is turning surplus in-store bakery baguettes and batons into bread pudding and crostini as part of its strategy to tackle food waste.
The retailer said it was looking to dramatically reduce the number of wasted baguettes and batons, which are amongst the UK's most popular bread choices but also two of the highest waste products.
The in-store bakery batons will be sliced, topped with extra virgin olive oil and then baked to a crisp and crunchy texture to create Olive Oil Crostini (rsp £0.85), while the white baguettes will be broken into crumbs and mixed with spices, sultanas and water to make bread pudding (rsp £1.25).
"These new fresh bread pudding and crostini lines are made to classic recipes and using bread that has been deemed surplus at the end of the day," said Gordon Gafa, category director for bakery at Tesco.
"We're very proud of our record on tackling bread waste and this latest move follows other recent measures, such as advising customers that they can freeze bread and also reducing the amount of bread we bake in our stores."
Tesco is currently trialling the move at 24 stores across the UK. It said that if the initiative was successful and rolled out across all of its stores, baguette and baton waste could be cut by around 40%.
Food waste action charity WRAP has reported that surplus bread is one of the biggest waste problems facing food retailers, particularly freshly baked lines. In 2015, the group estimated that surplus bakery products accounted for nearly a third (67,500 tonnes) of the UK's total retail food waste.
"This initiative by Tesco is an excellent example of a simple solution to a common problem," saidDavid Moon, head of business collaboration at WRAP.
"Using surpluses in-store to make a delicious new product saves good food from spoiling and reduces the cost of waste to the business."