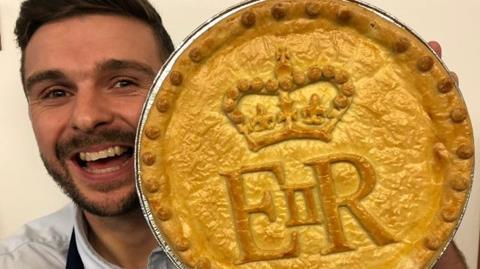 West-Sussex business Turner's Pies has received an order from Buckingham Palace.
The supplier, which operates pies-by-post service, was stunned to receive a pie order from a customer who gave a Buckingham Palace address.
"It was gobsmacking," said Phil Turner, managing director of Turner's Pies, who had his staff make steak and kidney pies with an ER emblem and a crown.
The baker sent the pies off, hoping it would be the start of an ongoing order, Turner said. Since then, they have heard nothing back and believe the order was for Her Majesty's staff rather than the Queen herself.
"Being named in the Guild of Fine Food's Top 50 Foods in the UK and having Harrods of Knightsbridge choosing to stock Turner's Pies in their food halls means we know we make the best pies in the land and they are good enough for royalty.
"And you never know, with a bit of luck, Her Majesty and one or two other members of her family might have had the chance to try one of the pies!"
The business has four shops in West Sussex, including Broadwater (Worthing), Chichester, Bognor Regis (where it started in 1933) and Rustington.
The baker was featured in the BBC documentary Life of Pies earlier this year, in which cameras followed the team as they prepared for the British Pie Awards in March. Turner's steak and mature cheddar pie was voted Class Champion in the beef and cheese pie category at this year's awards.