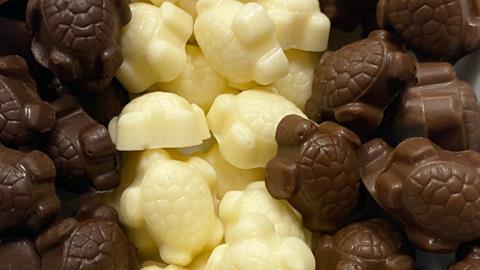 Pecan Deluxe Candy has rolled out miniature chocolate turtles targeted at food manufacturers.
The turtles can be created from milk, white, dark or pastel pink chocolate, as well as low-melt compounds of the same flavours. The sweet treats are inspired by the popular US chocolate shop classic 'turtle candy', said the company.
Pecan's new inclusions can be produced as solid shapes or filled with flavours such as caramel, mango, raspberry, chocolate fudge or peanut butter-flavoured caramel. Bespoke fillings can also be created to meet specific customer requirements.
"The market for a variety of chocolate inclusions continues to grow, as adventurous customers seek to satisfy sweet cravings with moments of indulgence from premium desserts and other lines," said Liz Jones, commercial and development director at Pecan Deluxe.
Unlike the traditional American recipe containing pecans, the chocolate turtles are nut-free and suitable for non-allergenic applications, including bakery products.
"We're responding to that demand by creating inventive inclusions that are as endearing to the eye as they are pleasing to the palate – and the speed with which these turtles have made it to market certainly makes them a very standout species."
More shapes are expected to hit UK production lines in the future. All Pecan Deluxe products are made using natural colours and flavourings in allergen-controlled, BRC A-grade facilities.