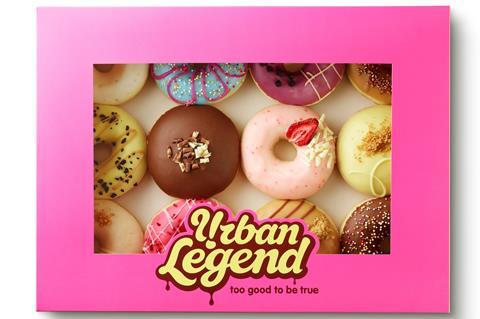 Urban Legend is set to sell its doughnuts via the bakery counter in Selfridges' Foodhall.
Set up by former Graze CEO Anthony Fletcher in 2021, the business specialises in what it describes as 'responsible indulgence'. Its doughnuts are set by a beam of steam with a micro layer of fat deposited on the outside to mimic the properties of a deep-fried doughnut.
To celebrate the launch on Thursday 18 August, Urban Legend has created a limited-edition Yuzu & Dark Chocolate doughnut. It's covered with an orange flavoured icing and decorated with Japanese citrus fruit yuzu and dark chocolate shards.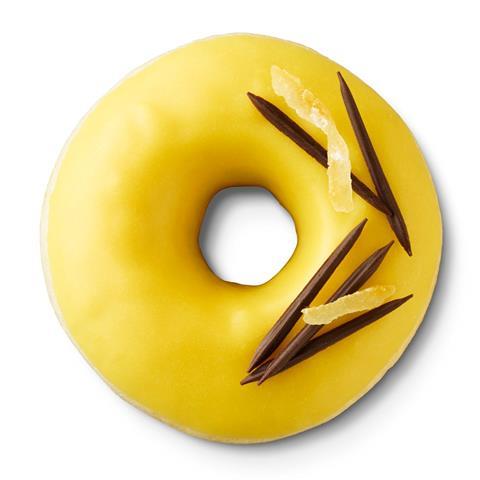 In addition to the limited-edition doughnut, there will be a variety of Urban Legend staples for customers to choose from including the bestselling ring doughnut Bubblegum Burst, along with filled variants: House of Caramel, Chic Citron, Double Trouble, Banoffee Pie, Apple Crumble. They're available in boxes of one (ring £2.60/filled £3.35), three (£7.50) or by the dozen (£19.95).
The ring doughnuts have less than 150 calories, according to the brand, and a 50-75% reduction in sugar, fat and saturated fat compared to rivals. They also contain no artificial colours, flavours, or preservatives.
The news comes just after Urban Legend revealed a partnership with Tesco which will see its doughnuts available in 50 stores across London, sold in bright pink branded cabinets.
The business also revealed it's investing in a new custom-built, high-tech factory in West London to service the partnership and scale further over the coming months. It secured £7m for the factory in venture capital from its latest fundraising round which has been added to the £3m of seed funding.
Urban Legend also has a standalone site in Brighton and another in Clapham Junction, with further expansion in the pipeline for 2022/23.