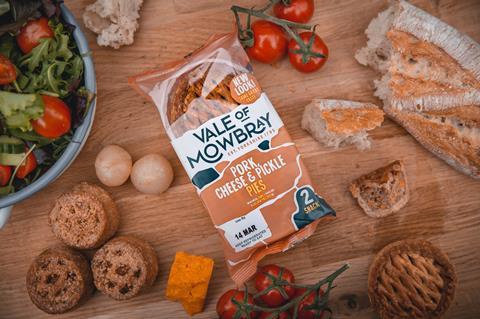 Pork pie specialist Vale of Mowbray has secured listings in 192 WH Smith travel stores.
The North Yorkshire-based brand's Scotch eggs and pork pies will be sold in airports and train stations across the country. The roll out will be backed by a digital screen campaign at both Heathrow and Birmingham airports.
The news comes after the company, which bakes over 1.5m pies every week, recently invested £4m in an NPD project. This saw new machinery, including what Vale of Mowbray claims is the largest fryer available in the UK, and jobs added for the launch of its Scotch eggs, which the business said had seen a resurgence of late. The fryer is also capable of making other encased products however the firm remains tight lipped about what form these may take.
Speaking about the WH Smith partnership, managing director Mark Gatenby said: "We're thrilled to see a Yorkshire product on shelf across the country, ready to be enjoyed by both domestic and international travellers.
"Launching scotch eggs led to 30 new roles being created at our production site, as well as being the impetus behind growing our sales and business development team, so it's great to see the team's hard work coming to fruition."
Earlier this year the business, which was established in 1795 and bought by the Gatenby family in 1995, debuted a three-strong range of square-shaped posh pork pies in Morrisons. The pies each offered a 'unique' flavour. The Gatenby, which was named after the managing director, was designed to emulate the experience of eating a roast pork dinner with herby potatoes by using roast potato seasoning, rosemary, and thyme.