Pork pie specialist Vale of Mowbray has unveiled a three-strong range of 'posh pies' which are listed in Morrisons.
Each of the three variants offers a 'unique flavour', according to the firm, but are all made using premium cuts of British pork. The square-shaped pies, which have an rsp of £2.50, are individually wrapped for a deli experience.
Kicking things off is the Gatenby, named after the company's managing director Mark Gatenby, which is designed to emulate the experience of eating a roast pork dinner with herby potatoes by using roast potato seasoning, rosemary, and thyme. Next up is the Heritage variant which is seasoned with pepper, herbs, and garlic. Rounding the trio off is the Highland which is described as 'a taste of Scotland' and features traditional Scottish flavours and spring onions.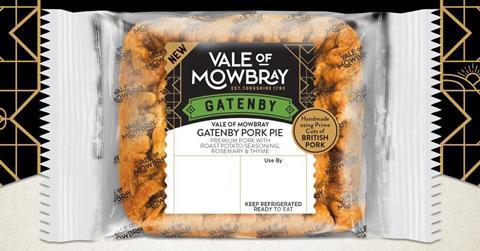 "This is a real step-change for the market, and we are proud to be able to make the investment to drive innovation and growth," said Gatenby, whose family bought the business in 1995.
There's more NPD in the pipeline for the firm, which was established in 1795 and bakes over 1.5 million pies every single week, although it is tight-lipped about the products which are expected to launch in the coming months.
"We've been working on this exciting range for some time and feedback so far has been great, said marketing manager Jason Crowe. "Recent NPD has led to 30 new roles being created at our production site, as well as being the impetus behind growing our sales and business development team, and we're really excited to see where we can go next."
Based at Leeming Bar, North Yorkshire, Vale of Mowbray employs over 200 people and currently has live vacancies for permanent staff members. In September the business announced it had moved to a four-day working week and given employees a pay rise to £10 an hour which is above both the National Minimum and National Living Wage.